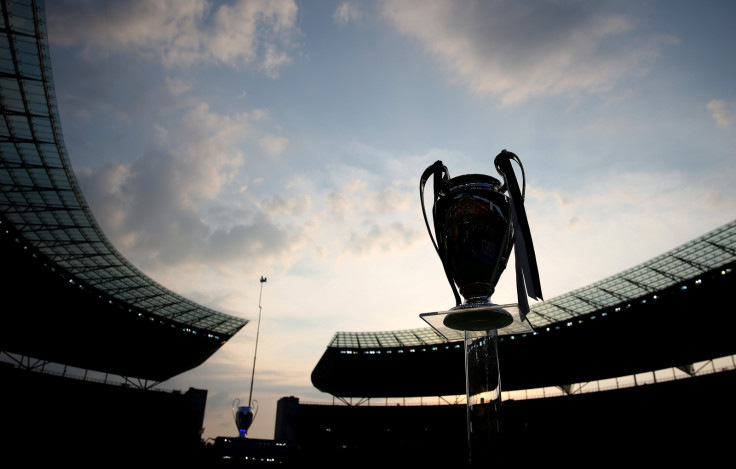 Arsenal have been drawn alongside Bundesliga champions Bayern Munich in their Champions League group for the third time in four seasons. Manchester City meanwhile have been handed another difficult group with Serie A champions and 2015 runners-up Juventus, along with Europa League champions Sevilla and Borussia Monchengladbach.
Manchester United return to the competition and will face PSV Eindhoven, the former club of summer signing Memphis Depay. Louis van Gaal's side also face trips to CSKA Moscow and Wolfsburg.
Chelsea meanwhile will take on one of Jose Mourinho's former clubs Porto. Ukrainian champions Dinamo Kiev and Israel's Maccabi Tel Aviv have also been drawn in the same group as the Premier League champions.
Holders Barcelona avoided Premier League opposition for now and will do battle with Bayer Leverkusen, Roma and BATE Borisov. Real Madrid and Paris Saint-Germain have been drawn alongside each other in Group A along with Swedish champions Malmo, the boyhood club of PSG's Zlatan Ibrahimovic.
Champions League groups in full:
Group A – Paris Saint-Germain, Real Madrid, Shakhtar Donetsk, Malmo
Group B – PSV Eindhoven, Manchester United, CKSA Moscow, Wolfsburg
Group C – Benfica, Atletico Madrid, Galatasaray, Astana
Group D – Juventus, Manchester City, Sevilla, Borussia Monchengladbach
Group E – Barcelona, Bayer Leverkusen, Roma, BATE Borisov
Group F – Bayern Munich, Arsenal, Olympiakos, Dinamo Zagreb
Group G – Chelsea, Porto, Dynamo Kiev, Maccabi Tel Aviv
Group H – Zenit St Petersburg, Valencia, Lyon, Gent