Arsenal fans have illuminated their former stadium with anti-Arsene Wenger slogans ahead of the crucial North London derby with Tottenham this weekend.
A section of Arsenal supports are demanding new leadership after a disappointing Premier League campaign which has left the Gunners in sixth position, four spots behind bitter rivals Spurs who are second.
The clubs lock horns on Sunday (30 April) in the last North London derby to take place at White Hart Lane as the Lillywhites build a new stadium nearby.
Over the last few weeks anti-Wenger campaigners have been spotted at Wrestlemania, the IPL, the World Snooker Championships and the club training ground.
But the most prominent was a light aircraft which flew over The Hawthorns as Arsenal played West Bromwich Albion.
Now it seems fans have come up with a new creative way to express their anger at the Arsenal board, which is reportedly preparing to offer the Frenchman a new two-year contract.
A series of images of anti-Wenger slogans were beamed on to the club's former home, Highbury stadium, on Friday.
The Evening Standard reported that the protesters plan to take their message to more locations inside the capital before the season ends.
The slogans included the trademark "Wenger Out" line that has been repeated on banners inside and outside the stadiums where Arsenal have played this year.
The images also include a picture of Wenger inside a "Stop" sign similar to that depicted in the classic Ghostbusters movies.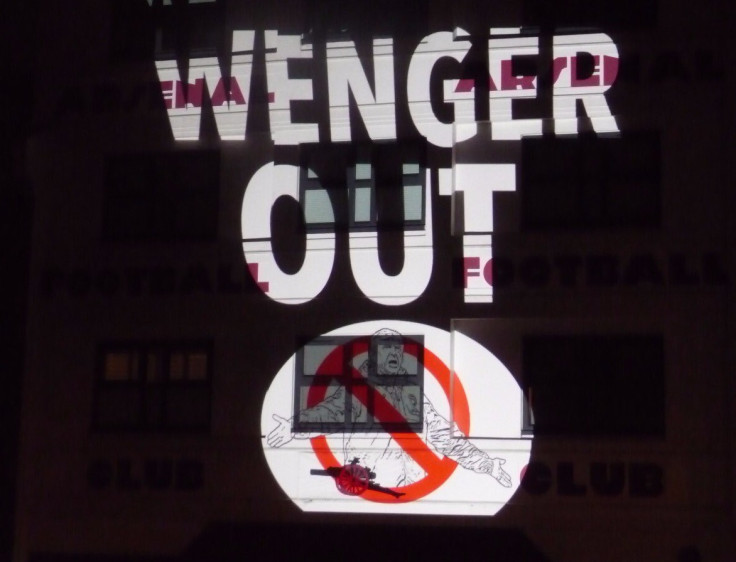 The 67-year-old manager's contract finishes this summer. His team have won their last two matches, with a 2-1 victory over Manchester City on Sunday that saw them into the FA Cup final for the third time in four years.
Wenger, who has been at the club for 21 years, also masterminded a 1-0 home win over last year's champions, Leicester City, on Wednesday.
But a sense of apathy seemed to linger over the Emirates as 10,000 seats laid empty on the night, something rarely seen at one of the best attended stadiums in world football.