Arsene Wenger defends Alexis Sanchez amid accusations of simulation against Leicester City
Arsenal beat Leicester 1-0 owing to an own goal by Robert Huth.
Arsenal manager Arsene Wenger has defended Alexis Sanchez in his altercation with Leicester City defender Christian Fuchs, where the 31-year-old hit him point blank with a ball when the Chilean prevented him from throwing the ball in long.
The Frenchman argued that Sanchez did not know that he had to stand a certain distance away from the touch line and the referee did not warn him before brandishing a yellow card.
Fuchs hit him straight on with the ball, which bounced off his shoulder and into his face, to which effect Sanchez fell down clutching his face. The Foxes defender received no further punishment for his indiscretions and the South American forward was accused of simulation, which Wenger denied in the post match press conference.
"I did not see where he was hit, but I saw on the first two attempts when Fuchs tries to throw the ball in, Alexis stood next to him," Wenger told Arsenal's official website.
"I don't think he knew he had to be further away. As well, I must say that the referee didn't tell him."
"After the first attempt, the referee didn't tell him he needs to move away so he thought he was in the right position. After that he got a yellow card because he didn't respect the rule.
"I accept that because he was not the right distance. The referee or the linesman should have told him. On top of that Fuchs was lucky not to get a yellow card because he threw the ball at him on purpose."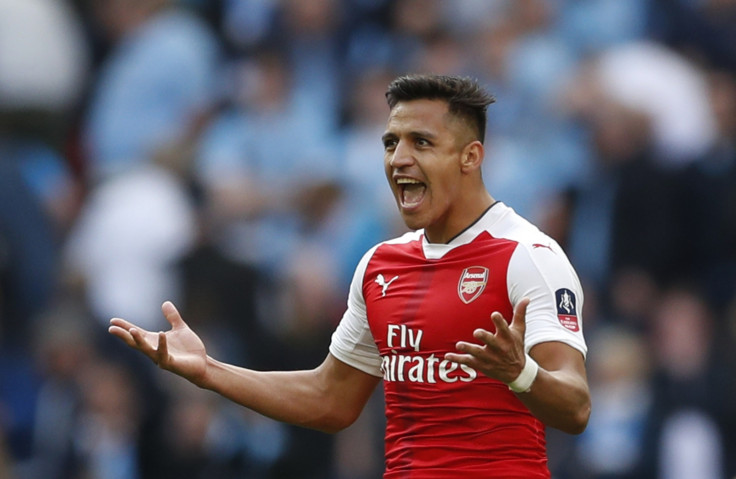 However, Wenger was more critical of the treatment meted out to Olivier Giroud, who got a studs in the back challenge by Yohan Benalouane, but was told off with only a yellow.
On the challenge on Giroud, he added, "That was a dark orange [card]. That is close to red."
Meanwhile, the Gunners secured their third win in back to back games with an own goal by Robert Huth after Nacho Monreal's ambitious drive was deflected in by the defender. The win takes them to within three points of Manchester United, who play Manchester City on 27 April, where either or both teams are set to drop points in the race for top four.
© Copyright IBTimes 2023. All rights reserved.