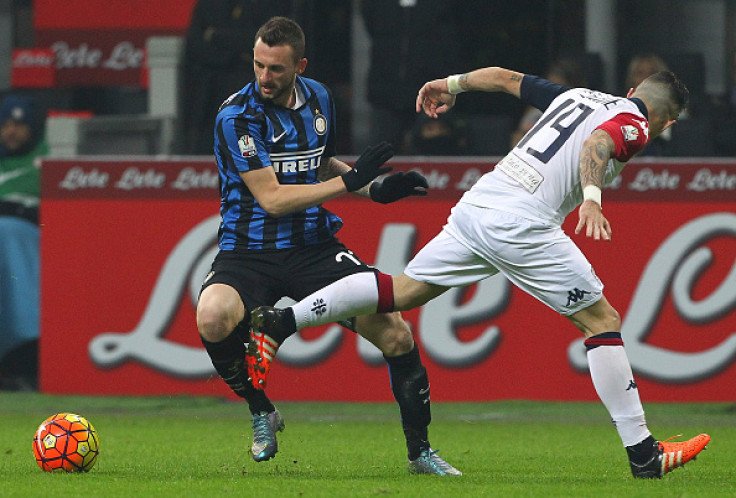 Arsenal have joined Chelsea in the race for Inter Milan midfielder Marcelo Brozovic in January, with Jose Mourinho's sacking opening a door for the Gunners to close a deal for the 23-year-old. The Blues were favourites to sign the player but the decision will have to wait till Guus Hiddink analyses the squad and draws up a list on their transfer requirements for the upcoming transfer window.
The Mirror reports that Inter consider the player to be worth at least £15m, having signed him for a mere £5m last January. The midfielder has made six appearances for the club so far scoring two goals in the process.
He will be an astute addition to the Gunners' squad, who are facing a crisis in the midfield, with five players currently out through injury. Francis Coquelin, Santi Cazorla, Mikel Arteta, Jack Wilshere and Tomas Rosicky are all out with long-term setbacks, bringing the Gunners down to their knees in terms of available personnel.
Wilshere is out for another six weeks after suffering a setback in rehabilitation while Cazorla will be unavailable till March after undergoing surgery on his knee. Mathieu Flamini and Aaron Ramsey are currently the backbone of the team, but an injury to either will open up a massive gap in central midfield for the Gunners. Wenger has been preparing Calum Chambers to slot into midfield in case of an emergency while Alex Oxlade-Chamberlain has also expressed a desire to take up a job if need be.
The north London club have an important game lined up against Manchester City on Monday, 21 December, where a win will take them within two points of league leaders Leicester City and four above the Citizens, who are being widely regarded as Arsenal's main rivals in a probable title challenge. The Citizens have Sergio Aguero back in the squad but will be without Vincent Kompany, without whom they have failed to keep a clean sheet in seven of their last eight encounters against all opposition.