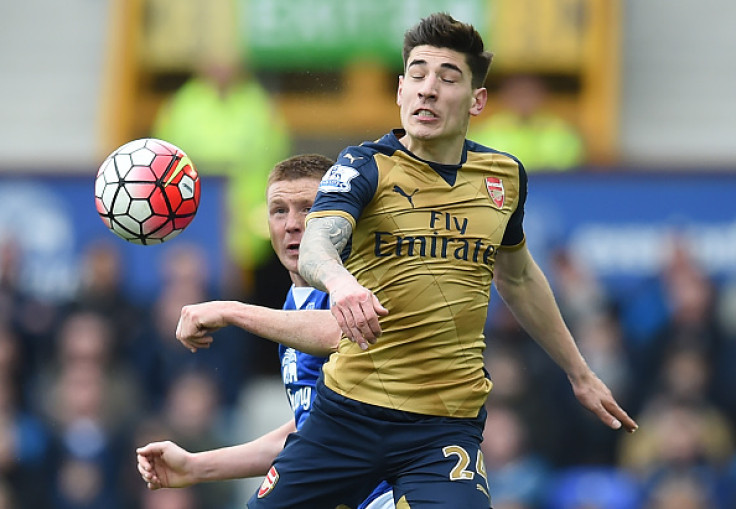 Arsenal full-back Hector Bellerin believes that the Gunners have shown more purpose with the ball in recent games, which led to their win over Everton at Goodison Park. The Emirates outfit lost five of their last seven games in all competitions before coming to Merseyside, which saw them bow out of the FA Cup and Europe.
The north London club are currently placed 11 points behind league leaders Leicester City and six points behind arch rivals Tottenham Hotspur, albeit having a game in hand. Bellerin picked up another assist against Everton when he played in debutant Alex Iwobi, who ran into space and finished adroitly under the goalkeeper. The 21-year-old has been called into the Spain U-21 squad and will play a game for the national side before reconvening at the Emirates for the rest of the campaign.
The Gunners resume proceedings on 2 April against Watford at the Emirates who eliminated the holders from the quarter-finals of the FA Cup. Every game is now a cup final for the north London club who are still harbouring hopes of a miracle and Bellerin believes that it is still premature to write them off the title race.
The Gunners are currently on 55 points and winning all their games will take them to only 79 points, and should they manage to win the league, it would be less than any other league champion in recent history. Bellerin believes that the international break has come at the right time for the Gunners who can recharge their batteries and come back refreshed for one last push in the race for the title.
"It is great time to go on the international break after a win, and it's time for the players to recharge their batteries because it is the last bit of the season and it is important for us," Bellerin told Arsenal's official website.
"We knew it was going to be a hard game. We were really looking forward to it and the team put on a great performance, especially in the first half with two great goals. That gave us the chance to relax a little bit in the second half.
"It is always a hard place to come [Goodison] and in the last few years we have always had tough games [here]. To get a win like that was important.
"I think the team has had more purpose with the ball lately and we are playing better football. That is showing on the pitch because we have to defend less because we are keeping the ball and creating way more chances," he added.