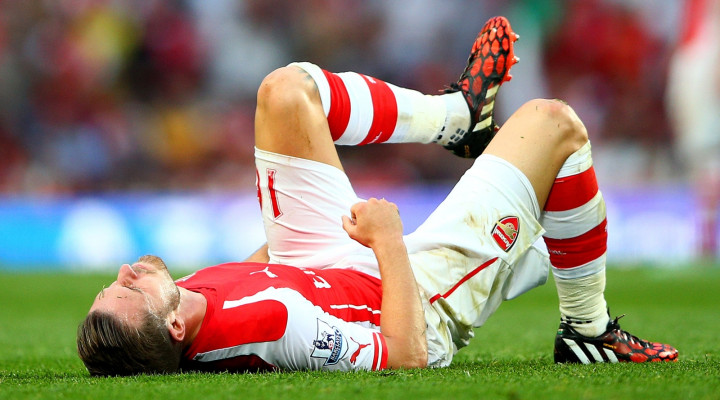 Arsenal have received bad news on the injury front concerning their midfielders after it was reported that star man Aaron Ramsey is set to be sidelined for up to six weeks with a grade 2 hamstring strain.
The report also claims that Gunners captain Mikel Arteta has suffered a calf strain that could keep him out for two to three weeks.
Both the midfielders were injured during the north London derby on Saturday and limped off in the first half and are now certain to miss a key part of Arsenal's season.
The upcoming international break will benefit Arsenal, as their players can have a couple of weeks off before the season resumes.
Arsene Wenger revealed earlier in the week that players like Theo Walcott, Yaya Sanogo and Nacho Monreal are set to return following the break and defenders Per Mertesacker and Kieran Gibbs will welcome the much needed break to completely recover from the little niggles they are carrying.
The French manager revealed his surprise at the number of injuries hampering Arsenal's season, and was especially flummoxed with Ramsey's injury, as he feels the midfielder had enough rest and good preparation ahead of the Spurs game.
Meanwhile, striker Danny Welbeck also feels that the injuries during the first-half of the game against Tottenham hampered them and believes that had the Gunners not suffered those injuries, they would have got more out of the game.
"It is difficult because we set out as a team knowing what we wanted to do and with the injuries coming into play, it changed everything for us and made it difficult. We would have preferred to make those substitutions later on in the game," Welbeck said, as quoted on Arsenal's official site.