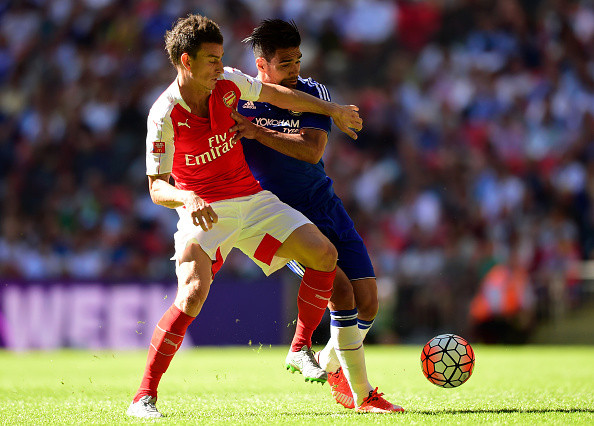 Arsenal manager Arsene Wenger has revealed Laurent Koscielny, Mikel Arteta and Mathieu Flamini may return to action in the upcoming Premier League game against Watford on Saturday 17 October. The French boss, meanwhile, is confident that Alexis Sanchez, Joel Campbell and David Ospina will all return without any problems from their international commitments.
Koscielny missed the victory over Manchester United just before the international break after suffering a hamstring injury during the the disappointing Champions league defeat against Olympiacos – meaning he was also unable to play for France in their friendlies against Armenia and Denmark.
But Wenger has revealed the centre-back may well be in the mix for the trip to Watford.
"Koscielny has a slight chance to be back on Saturday. He has a definite test [on Thursday]," Wenger said to the club's official website.
Arteta and Flamini, meanwhile, are already back in training after missing recent games, but it is still uncertain whether the boss will use them against the Hornets.
"Arteta and Flamini are back in full training. We need to see how they are and how confident they are, but we can't rule it out," Wenger said.
Speaking about the players who had performed national duties in the past week, he added: "From the internationals we only have positive news. We are still waiting for Campbell, Alexis and Ospina to return, but they all texted back to say they are OK, so we just have to see if they were objective in their assessment."
Sanchez's fitness was of particular concern after the Chile international limped off with a groin injury during Arsenal's impressive win over Manchester United. However, he unaffected by the problem on international duty, playing the full 90 minutes in wins against Brazil and Peru, scoring in both matches.
The news comes as a major boost for Wenger as the Watford trip is followed by a crucial Champions League tie at home to Bayern Munich and then the visit of Everton.