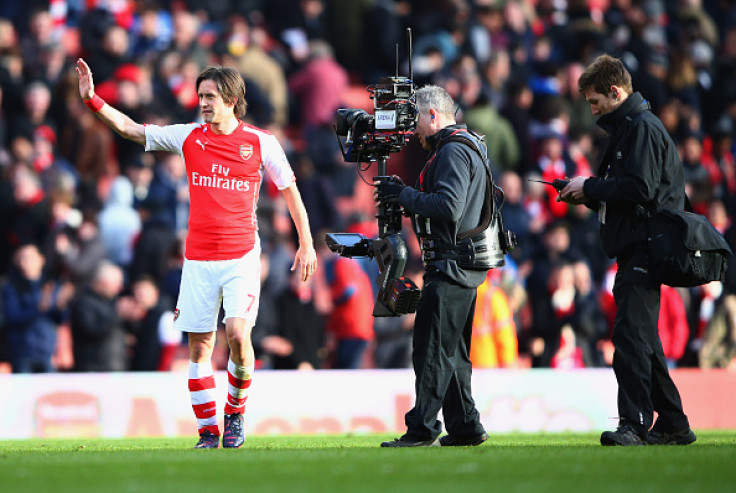 Arsenal manager Arsene Wenger has admitted that Tomas Rosicky is devastated after his latest injury setback suffered during the Gunners' 2-1 win over Burnley on Saturday (30 January). The midfielder picked up a thigh injury three minutes into his comeback as a substitute in the 71st minute, but stayed on to finish the game as the manager had already completed his quota of substitutions for the evening.
The Czech Republic international was making his first appearance for the first-team this season, following a lengthy injury absence due to a knee injury he picked up while on international duty. The midfielder returns to the treatment room to join Jack Wilshere and Santi Cazorla, who are also not expected to return until mid-March.
Rosicky has had an injury blighted career with the Gunners, making just 246 appearances despite being at the club for a decade. He is out of contract at the end of the season and this latest injury could be the final straw in the Czech midfielder's career at the north London club. Wenger is hopeful that the injury is not as bad as first feared, and everyone at the club will want to see him play for the first-team before his likely departure from the club at the end of the current campaign.
"Nobody understands. I told him straight away after half-time to warm up. I observed him, he's very conscientious Tomas, he did sprint and sprint, and sprint. He comes on; after three minutes he got the injury," Wenger said, as quoted by the Guardian.
"I looked at him and thought: 'Tomas you do not run properly' because he didn't lift his legs and he lost some balls. I was amazed because he is at the top level technically. He told me after the game that he did it straight away, then I understood why that happened to him. He said 'I stayed on because you couldn't change anymore'," the French manager explained.
"He warmed up well, for 20 minutes. He's devastated. Unbelievable. He's such a good player but his career has been disrupted by so many injuries. He was born in 1980, he's 35, it's difficult for him. Let's hope we have good news, that it is not as bad as feared."