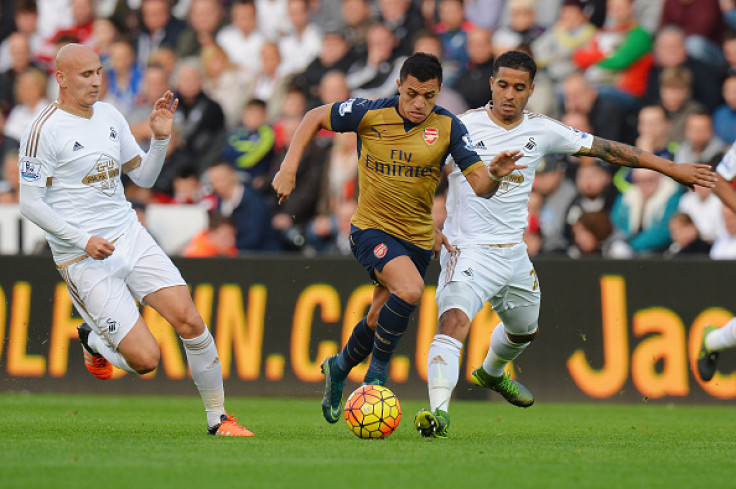 Arsenal manager Arsene Wenger has lavished praise on Alexis Sanchez hailing his fitness levels and his desire to give 100% every single time he is on the pitch. The Chilean international has been one of the Gunners' most consistent performers since his arrival from Barcelona last summer.
The 26-year-old attacker has played 71 games for the north London club since the start of the 2014/15 campaign and apart from club duties he has been involved with his national team during this summer's Copa America and last summer's World Cup in Brazil, taking his tally to 81 games in 16 months. The French manager is astonished by the player's fitness levels, which see him perform at his best despite travelling to Chile during the scheduled international breaks and arriving just under 48 hours before donning the Arsenal colours in the Premier League.
"His resistance is remarkable. What is also remarkable is that he goes to South America to play for Chile, he comes back Thursday night and on Saturday he can play without a problem even if he's jet-lagged. He would have been a perfect tennis player," Wenger said, as quoted by the Telegraph.
"These are not players who have the traditional academic education that we give now to the players at 15 or 16 – they have a physio every day. They are more street players, not pampered," the French manager explained.
Sanchez has suffered a couple of injury scares this season, and is currently nursing a minor hamstring problem. Wenger, however, does not feel it is the right time to rest the Chilean as Arsenal look to maintain their good start to the 2015/16 campaign when they face Norwich City on Sunday.
"That kind of mixture of flexibility, sense of how far can you go, that sensitivity to how much and when you have to ease off on your body weight. That's linked with co-ordination and they get injured less. He's not been injured and, the more you are injured, the more there is a chance to be injured again."
"Sometimes he finishes and you think, 'he's dead now'. But then he recovers and gives 100 per cent again. You always see signs of exhaustion but it's not, because two days later he's fine."
Wenger also gave Premier League top scorer Jamie Vardy his best compliment yet when he compared the English man to Sanchez. He believes that their styles are a bit similar, as they are always looking to go in for the kill when the opportunity arises.
"His style is very explosive. Jamie Vardy is a bit similar. They go when they go. They are like the lion. He has to catch the animal in the first 200 metres. If he doesn't get there, after, he's dead. They are these kinds of killers. When they go, it is to kill and after they have to stop," Wenger concluded.