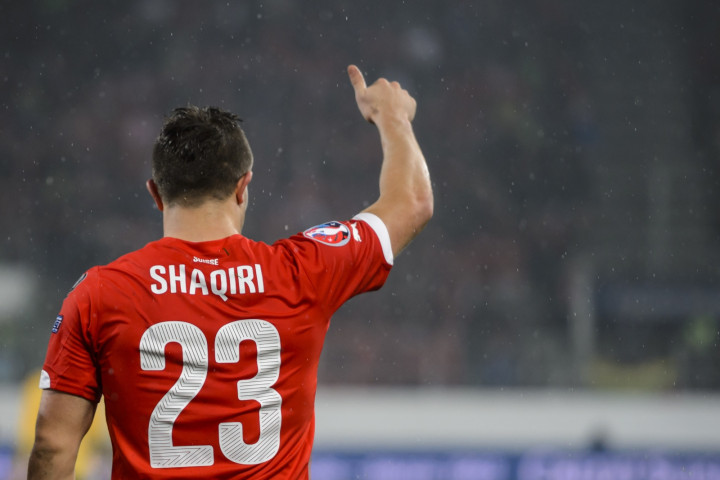 Arsenal and Liverpool are set to battle it out for the loan signing of Bayern Munich midfielder Xherdan Shaqiri in January, according to the Daily Mirror.
The Swiss international has been throttled for games in the home of the German champions and is willing to make the move out in search of more game time. Arsenal and Liverpool are potent options for the midfielder, who prefers a move to the Premier League in spite of advances from clubs from across Europe.
Napoli and Atletico Madrid are also willing to make a move but are likely to be disappointed if the English clubs make their interest official. He is expected to come with a buyout option, amounting to £12m in the summer while the loan fee is expected to stand at £1.5m for half a season.
Arsenal may move for the player as a replacement for Joel Campbell and Lukas Podolski, with both players expected to make their way out of the club in the upcoming transfer window. The Costa Rican is yet to start a single league game thus far while Podolski has reiterated his desire to leave the club for lack of opportunities in the first team.
Meanwhile, Liverpool are going through a torrid time in league and Europe and may look to Shaqiri as a fallback option in order to secure their position in the top four.
The deal has been made more plausible by the recent revelation by Bayern president Franz Beckenbauer, who insisted that no player will be forced to stay against his will.
"Bayern have sent some signals to the boy, who can leave the club once the window opens," Beckenbauer told Sky Germany.
"Personally I want players at the club who want to stay with us and if a player wants otherwise, he is free to leave for another team," he added.
The statement comes in stark contrast to his agent who is sceptical about a move out of Germany in January. The player being cup tied and the improbability of Bayern finding a replacement in the time period are arguments presented against the case.