An annual Arsenal crisis now comes as par for the course in the Premier League. But it has never come more provocative than it was on Saturday 29 November as a banner reading "Arsene, thanks for the memories but it is time to say goodbye" was unfurled among the travelling Gunners contingent during their clash with West Bromwich Albion. A match they won, by the way, three days after beating Borussia Dortmund in the Champions League.
Murmurings of discontent have turned into cries of outrage during the north London club's dismal league campaign that has yielded just five wins from 13 games, and 20 points from a possible 39.
The divide between staunch Wenger loyalists and those clamouring for upheaval is growing thinner by the day. No longer is discontent marked by #WengerOut hashtags and supporters belligerently ranting down the phone to football phone-ins. That concern is widespread and unrelenting.
Let's face it, banners at football matches are rubbish. Mainly due to their everlasting ability to come back and bite supporters on the backside. But while some Arsenal fans will distance themselves from the events that took place at the Hawthorns on Saturday, their low spirits will be real and are likely to resonate will those of the few who held the message aloft.
Fears that the club are going nowhere quickly under the guidance of the Frenchman have quickly erased memories of their FA Cup triumph in May. The endless cycle of a late dash for Champions League qualification followed by an uninspiring campaign in that competition does little to catch the imagination of bored Gunners who have seen clubs around them take action when mistakes have been made.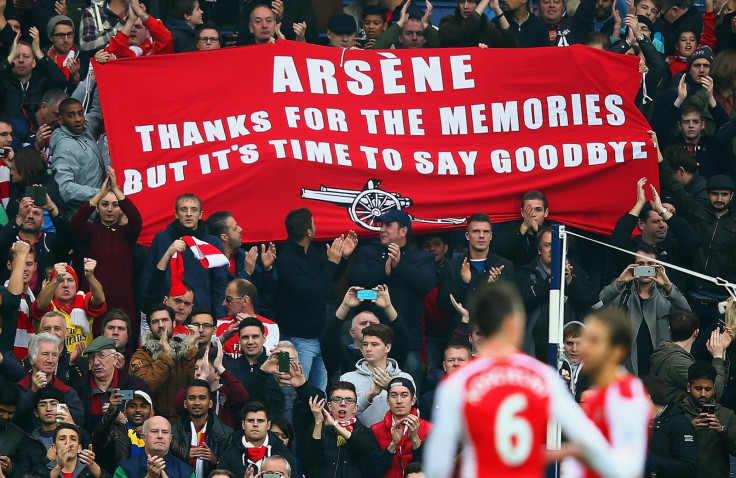 Arsenal's inability to go blow for blow with the Premier League's elite is almost now a matter of fact rather than opinion. But at least the club could be relied upon to beat the lesser sides looking to usurp them. Southampton, despite their sobering defeat to Manchester City on Sunday 30 November, travel to the Emirates on Wednesday 3 December with the intention of doing just that.
The lack of real progression in Arsenal is worrying but total regression is unlikely to be tolerated. Managers of clubs of Arsenal's status have gone for far less.
Wenger is already on the brink of unprecedented unpopularity. A repeat of the meeting between the two sides in the Capital One Cup in September – a comfortable 2-1 win for Ronald Koeman's side – will widen Saints' six-point advantage over the Gunners and could leave the latter five points adrift of fourth-placed Manchester United should Louis van Gaal's players string together a fourth consecutive win against Stoke City.
Wenger has remained defiant in the face of the latest wave of criticism. After all, he is used to it. But the worrying dilemma is those questions over what Wenger actually contributes to an Arsenal side mercilessly stagnating have come in time for Christmas this year. And they are louder than ever.