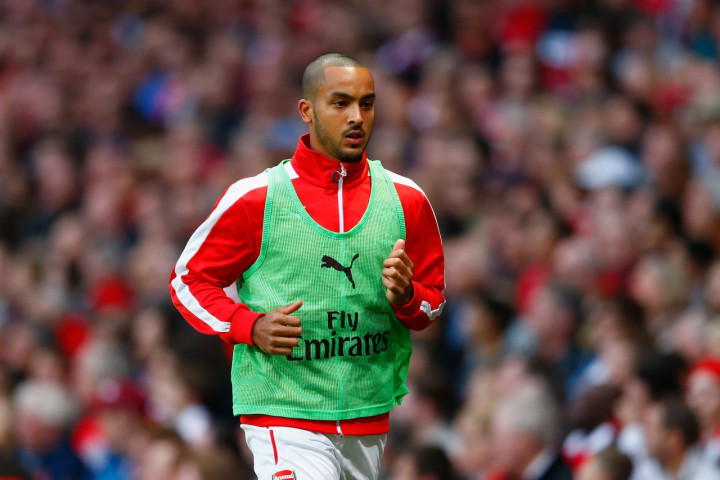 Arsenal manager Arsene Wenger has heeded caution over the fitness of both Theo Walcott and Jack Wilshere despite the pair being on the brink of a full return to the Gunners first team.
Walcott played 10 minutes of the 3-0 win against Burnley over the weekend in his first appearance since January after suffering an anterior cruciate knee ligament injury.
Wilshere meanwhile missed the game with a "short term" knee injury but could yet return for the resumption of Arsenal's Champions League campaign against Anderlecht on Tuesday.
But Wenger says both players are not yet certain of a full return to the Arsenal team despite their injury prognosis, with the Frenchman particularly concerned over the workload of Walcott who could be called into the England squad for the European Championship qualifier against Slovenia next week.
"Hopefully Theo will come on and have no setbacks now, but we always have to be cautious," said Wenger. "The battle is not won yet - at nine or 10 months out, you have ups or downs and I will have to manage that well.
"If he wants to go [with England], I am happy for him to go and train, and maybe get a few minutes. I am happy for that because it will help his development. Is he completely ready? I think it is a bit early, but to be in the squad would be good for him."
Roy Hodgson's management of Walcott among others will be scrutinised during the upcoming international break after the England coach came under fire from Liverpool manager Brendan Rodgers regarding his handling of Daniel Sturridge.
Sturridge hasn't played since September after picking up a thigh problem during international duty which drew criticism from Rodgers, and Wenger will demand assurances Walcott and Wilshere's fitness will be managed correctly.
Wilshere's current absence is not expected to be long term but Wenger was unwilling to confirm whether he will be available for Arsenal's home game against Anderlecht.
"He has not practised yet," Wenger added. "Will he be available [against Anderlecht]? We'll see. I think he will try [to train] tomorrow, Monday latest."