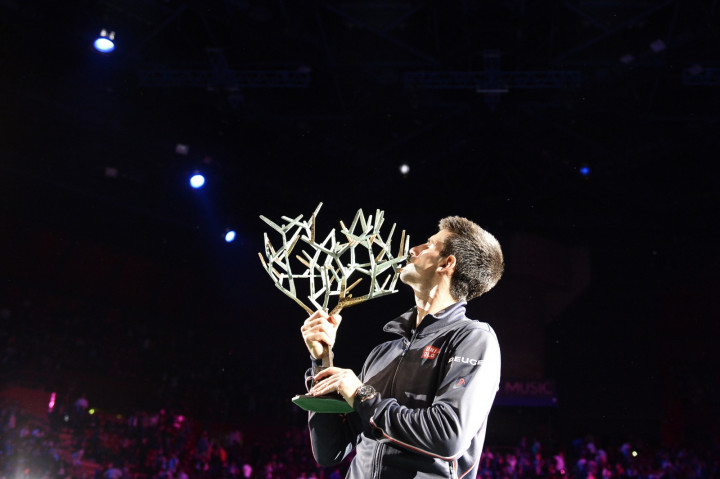 Novak Djokovic has sealed his sixth title of 2014 after beating Milos Raonic in the final of the Paris Masters.
The world number one defeated Andy Murray at the quarter-final stage on Friday and had little problem in the French capital as he eased to a 6-2 6-3 victory to become the first man to defend the title.
Djokovic now finds himself in a commanding position to confirm his number one status ahead of Roger Federer at the season-ending ATP World Tour finals in London.
The 27-year-old also extended his indoor record to 27 straight wins as he claimed the 20th Masters title of his career, his third in Paris to equal Boris Becker's record.
Raonic, 23, defeated both Roger Federer and Tomas Berdych to earn his spot in the final but could do little to disturb the Serbian who sealed his win in an hour and 23 minutes.
The Canadian dropped his opening service game after netting a volley to immediately hand the initiative to Djokovic, who broke his opponent again early in the second set.
From there, Djokovic never looked like losing his momentum as he completed his latest triumph having not dropped a set all week.
Ahead of his battle with Federer to finish number one in 2014, Djokovic said: "I see it better now than one week ago, that's for sure.
"It helps that I won the title in Bercy, that I'm playing well, and that I'm feeling good about myself on the court playing indoors. That encourages me, as I said before, prior to the last event of the year.
"Now I cannot affect his matches. I can affect only what I can do in my own matches. So I'll try to stay focused on what I need to do and play well in London. Every match that I play and win gets me closer to holding No. 1 at the end of the year."