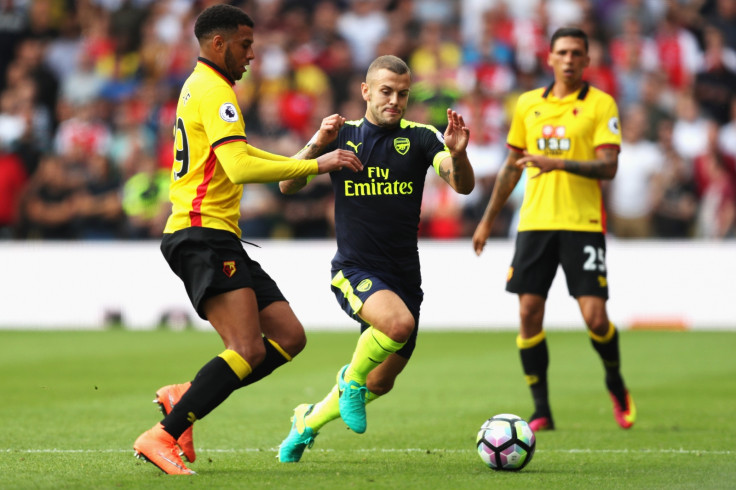 Arsenal boss Arsene Wenger believes Jack Wilshere is a "world-class player" – and has no intention of selling the midfielder. The 24-year-old England international was recently allowed to join Bournemouth on a season-long loan deal, but Wenger has rubbished rumours that the move is a precursor to Wilshere leaving the club.
Wilshere suffered an injury-ravaged campaign in 2015-16 and Wenger said the loan deal is designed to ensure he plays regular football in the Premier League. "I spoke to Jack and there were concerns that he wouldn't play enough," Wenger said, according to The Mirror.
"If he has some time then he will come back at a competitive level. He's gone to play games. He wanted games and I can understand his desire, it's a logical decision. Let's not forget that he missed last year... you can't afford to be out two seasons without playing at the top level."
The move has prompted speculation about Wilshere's long-term future with Arsenal, but Wenger hopes that the midfielder – who has two years left on his current contract - remains with the North London club for the remainder of his career.
"I hope personally that he stays his whole career here," the Arsenal boss shared. "He's a world-class player, he doesn't have to show me that he can play at Bournemouth he just needs to be back [and playing] at a competitive level."
Wilshere is likely to play in an advanced role under Eddie Howe at Bournemouth – and Wenger admitted that is where he would prefer to see him play. "He's most dangerous when he plays further forward," the Arsenal manager said. "Sometimes it's a shame that he plays so deep. I prefer him when he's behind."
Meanwhile, Wenger also addressed recent rumours linking Howe with the Arsenal job, insisting he has no idea who will eventually replace him at the Emirates Stadium. "These are questions that are impossible to answer," he said. "I wish the best to the guy that comes after me."