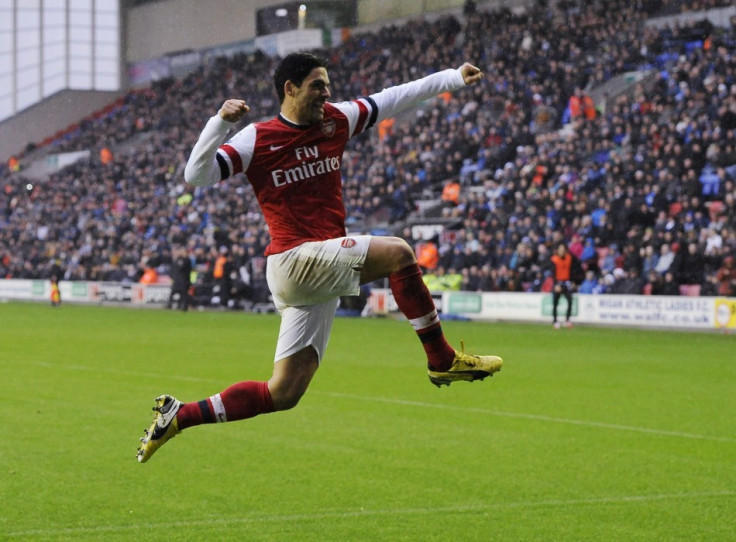 Arsenal manager Arsene Wenger has confirmed captain Mikel Arteta has signed a new one-year deal at the Emirates Stadium – prompting doubts on whether the French boss will bolster the midfield further during the summer transfer window.
Being out of contract at the end of the last campaign, the Spaniard's future had been under scrutiny recently after he missed much of the current campaign due to injuries.
The 33-year-old midfielder only made 13 appearances for the Gunners during the whole 2014-2015 campaign – being completely out of action since the Champions League group game against Borussia Dortmund earlier in November.
But earlier this month the Mirror revealed the captain was finally set to commit to the club for one more season and now Wenger has confirmed the news, hoping the Spaniard will have a much more important role in the coming campaign.
"He will stay with us for one more year because he has extended his contract," Wenger told Arsenal Player.
"He's one of the leaders in the club because he's the captain of the team. I expect him to contribute much more than last season but he also faces a battle. With the number of games we have ahead, we could use his experience, his desire and his quality as it will be vital for next season."
The news, meanwhile, sparks doubts on weather Wenger will finally sign another midfielder during the summer transfer window.
The Gunners have long been linked with a move for a holder since the summer 2014.
Standard Sport recently revealed Wenger was considering renewing his interest in Sporting Lisbon star William Carvalho – after ruling out moves from both Juventus' Arturo Vidal and Southampton's Morgan Schneiderlin.
The Times reported that Arsenal are closely monitoring Grzegorz Krychowiak regarding a summer move for the Sevilla midfielder.