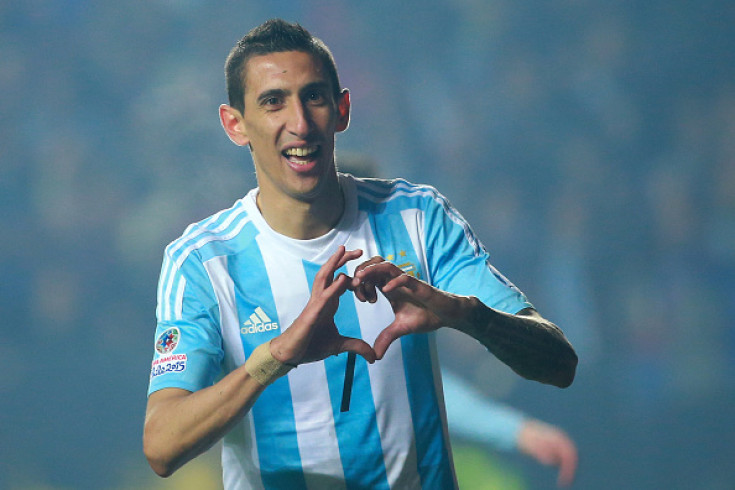 Arsene Wenger is keeping tabs on the situation unfolding behind Angel di Maria in the summer, according to the Daily Mail.
The Frenchman is a big fan of the player who would add some width to the Arsenal frontline. The midfielder has not had the best of debuts to his season at Manchester United and both parties could be considering parting ways so as to make way for more influential acquisitions in the summer.
Di Maria was sent off against Arsenal in the quarter-finals of the FA Cup, where they were comprehensively beaten by the Gunners and was kept on the bench in the following games to make way for Juan Mata, who had a positive impact since coming into the team. The Argentine made 10 assists in the league and was second only to Chelsea's Cesc Fabregas in that department.
His arrival will pave the path for Sanchez to play through the middle, with Theo Walcott on the right making runs behind the defence. Giroud is likely to be shunted to the bench, as was the case in the FA Cup final, where Walcott was rewarded for his hat-trick against West Bromwich Albion and given a starting spot ahead of the Frenchman.
However, the move will depend on United's propensity to sell to a direct rival, something Louis van Gaal has already done with Welbeck.
Meanwhile, Mesut Ozil will be handed the number 10 role at Arsenal next season with Wenger looking to bring the best out of his prized asset.
The German, who had an injury plagued campaign last season, hit favourable heights in the second half of the season where they accumulated the most points among all teams in the Premier League. However, a flurry of injuries to key players and their failure to find the net led to their downfall in the first half, which was too big a task to scale over the course of the season.
Ozil was deployed on the left flank in the start of the season in the absence of Olivier Giroud, with Danny Welbeck or Alexis Sanchez playing the lone striker role in a 4-14-1 formation for the north London club. The 26-year-old struggled to make an impact and was out for three months owing to a knee injury he sustained against Chelsea in October.
However, with no international commitments this summer, Ozil will be hoping to be back at his best for the start of next season, with the Gunners needing to end their 11-year break without a league title.
More about Arsenal