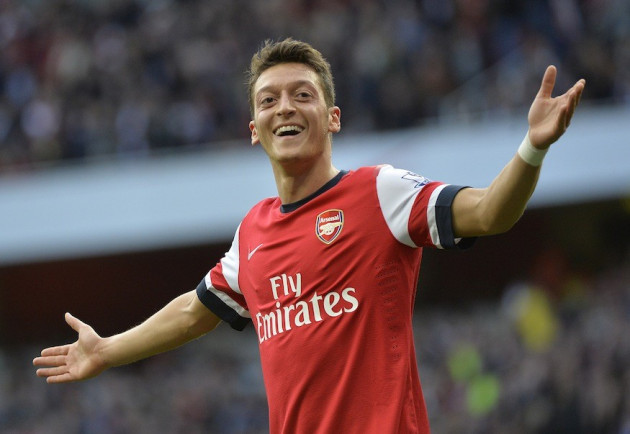 Mesut Ozil says that everything at Arsenal has been enjoyable so far after the midfielder sealed a move to the club from Real Madrid in the summer.
Ozil's relocation to north London was met with much fanfare and Arsene Wenger breaking the bank to take in the Germany international has so far proven to be worth every penny.
While there has been a lot of back-and-forth with Madrid over why Ozil wanted a move to Arsenal the 25 year old says he is enjoying his time working with Wenger and the squad.
When quizzed by Bild in preparation for the side's match with Borussia Dortmund in the Champions League this week, he said: "To be honest, at Arsenal everything is fun. The coach, the players and life in London - I really feel comfortable."
He also insisted that Arsenal are deserving of being mentioned as favourites to win the title, explaining: "Why not? "Whoever, after 10 games, is five points ahead, also has the potential to stand in front at the end of the season."
Arsenal are currently sitting on 25 points at the top of the Premier League table after 10 games, having lost just once this season in their opening match with Aston Villa.
Their Champions League campaign hasn't been as promising with the side losing to Dortmund at home in their first tie with the Bundesliga giants and Wenger's men will be looking to correct their mistakes at the Westfalenstadion on Wednesday night.
Ozil admitted that the defeat was particularly tough to take to Dortmund with Arsenal believing throughout the 90 minutes that they were the better side and capable of taking the three points.
"There is no sting, but every defeat annoys me," he explained. "Home defeats especially. And in the Champions League than ever. We were about to turn the game around. But Dortmund made ​​the second goal [and then it was over]. "
While Ozil used to play for Schalke, who have a huge rivalry with Dortmund, he says that the Champions League is enough motivation for the upcoming match and he won't need to tap into his former hatred of the club in order to play at his best.
He said: "I've been here for more than six years away from Schalke. It does not matter anymore - Champions League games are motivation enough."