Arsenal: Mesut Ozil wants Gunners to win their remaining league games and give themselves a chance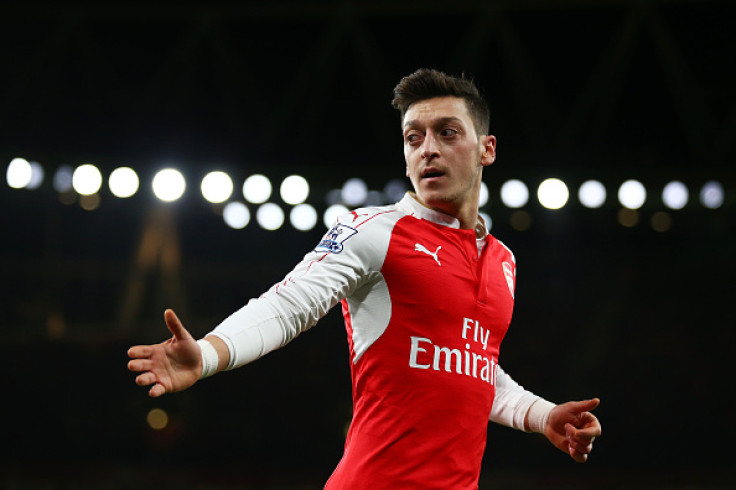 Arsenal midfielder Mesut Ozil has urged the team to not give up and to do their best to take maximum points from the nine remaining games in the season. The north London club are currently eleven points adrift of league leaders Leicester City, who have played a game more, but the Gunners are out of all Cup competitions and have only the league to contend with until the end of the season.
Ozil, who has been Arsenal's stand-out player this season with 18 assists to his name, believes that Arsenal can still have a shot at the title should other teams around them drop points, which, given the state of the season is not an inconceivable prospect. Manchester United, who were leading Manchester City by eight points, with six games left in the season, dropped off in the final few games and allowed City to close the gap and win the league by goal difference in 2011/12. The German is hoping a similar story unfolds this time around to help the Gunners end their 12-year drought without the title.
The north London club suffered a shock defeat at the hands of Watford in the quarter-finals of the FA Cup, which ended their two-year unbeaten run in the Cup. Meanwhile, in the Champions League, they were convincingly beaten by Barcelona, where despite a strong performance at the Camp Nou, they were found short yet again in the round-of-16. Should they fail to win the league, this is the first time that Ozil would end the season without a trophy, having won the FA Cup on each occasion since his arrival in 2013.
"Last year we won those last eight [remaining] games but we don't care about that now," Ozil told Arsenal's official website. "It's important what happens now. We have to concentrate now and give everything on the pitch. We have to fight.
"I know the teams playing us will fight to take the points against us, so the games will be tough. We have to fight on the pitch and we have to think from game to game, not that we can win eight games in a row and take the points.
"Now it's not possible to win just our games [and that to be enough] so other teams need to lose points as well. The first step is to believe in us.
"We have to work harder than before. We have tough games coming but we have to take the points. If we win the title, we will be very happy because we believe in us.
"If you see the whole season, we've played very well. We've lost some points because we weren't concentrated or we didn't score. Now we have to fight for each game to take the points."
© Copyright IBTimes 2023. All rights reserved.