Mesut Ozil has staked his claim for the number 10 shirt that has just been made vacant after Jack Wilshere's departure on a season-long loan to Bournemouth. The Arsenal midfielder also admitted that he will resume talks with the club over extending his deal, which currently runs until the summer of 2018.
The England international, who took over the number following the departure of Robin van Persie, has joined the Cherries for the 2016/17 campaign. Ozil, who currently wears number 11, has said that he definitely wants to take over the highly coveted number 10 shirt, which has been worn by a number of legends like Diego Maradona, Zinedine Zidane and Pele during their illustrious careers.
Ozil recently took over the number 10 shirt for Germany following Lukas Podolski's retirement and is now eyeing the jersey at Arsenal and he believes that it suits him best owing to his position in the playmaker's role behind the striker.
"It just went free, and I definitely want it," Ozil said during an interview with German publication Express when asked about Arsenal's No 10 jersey, as translated by the Daily Mail.
"I'd wanted the number for years but so did Lukas Podolski. And he got to keep it because he had more caps than I did. Now I've pounced. The number fits me and my position: play-maker.
"It's my favourite number. Football legends like Zinedine Zidane, Diego Maradona and Pele wore that number on their backs. I'm really very happy to have it," he added.
The 27-year-old midfielder also revealed that he will resume talks with the club regarding a new deal, after they had suspended it due to the European Championships in the summer. Ozil has two more years to run on his contract, but Wenger is hoping to agree an extension with the World Cup winner.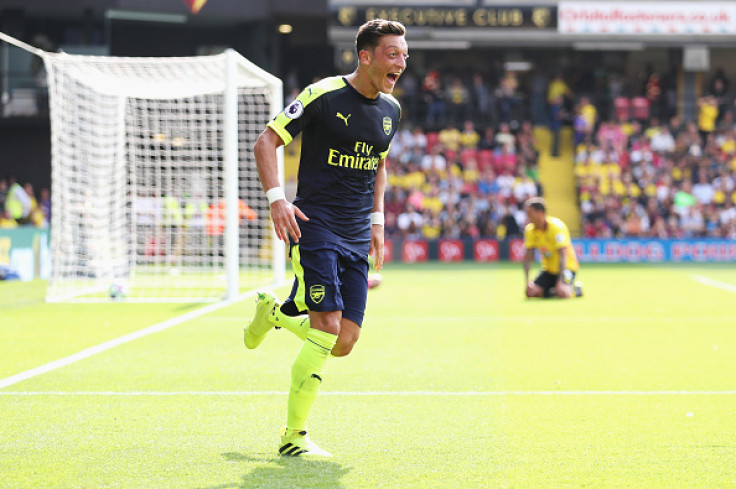 "I've got a deal that takes me through 2018. We've had talks, but we broke them off during the Euros so I could concentrate on the national team. Let's see where the negotiations go from here," the Germany international explained.
"They like me and the way I play football...it's a lot of fun playing in England," he said regarding the fans' support and playing in the Premier League.