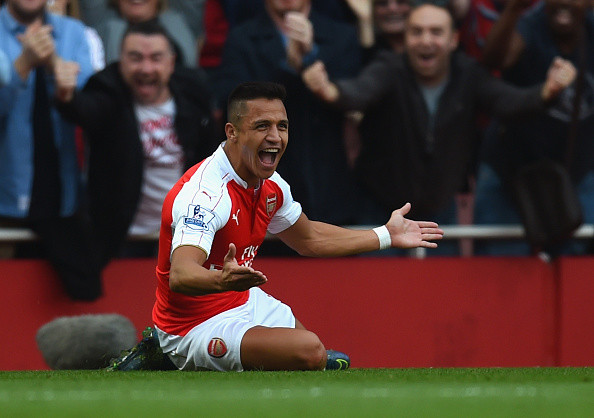 Arsenal captain Mikel Arteta has tipped Alexis Sanchez to succeed Chelsea star Eden Hazard as the best player in the Premier League, with the Chile international scoring 10 goals in his last six appearances for club and country. However, the Spanish midfielder believes his teammate is yet to reach his peak with the Gunners as he is always eager to improve.
Ballon d'Or nominee Sanchez enjoyed an impressive first campaign at the Emirates Stadium following his arrival from Barcelona, scoring 25 goals and providing 12 assists in 52 appearances, including one in the FA Cup final win over Aston Villa. The 26-year-old was nominated for the PFA player of the year award but was beaten by Hazard after the Belgium international led Chelsea to win the Premier League and the Capital One Cup, while netting 19 goals and providing 12 assists in all competitions.
The former Barcelona star had a slow start to the 2015-16 season following his crucial role in helping Chile win the Copa America in the summer. But after failing to find the net in the first six Premier League games of the campaign, he has managed to replicate his last season stats in recent games, having scored seven goals in his last four games for Arsenal, including a brace against Manchester United, and three on international duty.
Arteta is not surprised about his teammate's run but says Sanchez will need the support of the rest of the squad to follow in Hazard's footsteps.
"Alexis's best moment is yet to come," the Arsenal captain said to IBTimes UK, speaking ahead of the crucial Champions League game against Bayern Munich. "Because he always wants to improve, he is always looking for more. After the summer holidays, he struggled a little bit but he is currently in a very good form and with great confidence. With the ambition he has, he is certainly going to go further.
"Last year, he was already a key player for us. He has what it takes to be the be the best player in the Premier League, I am sure about that. But he needs the help of the rest of the team. Hazard, for instance, last year won [the Premier League player of the year] award because Chelsea won the title and because he had a very strong team around who helped him a lot. We have to do the same with Alexis to help him to be the best."