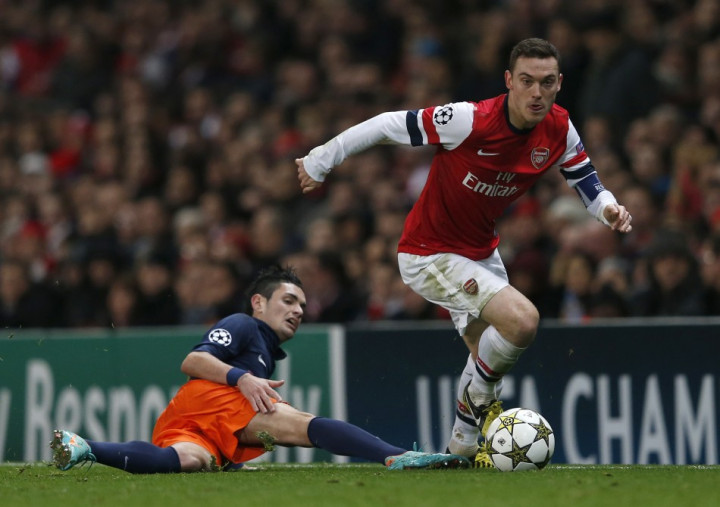 Rafa Benitez wants to make Arsenal captain Thomas Vermaelen his first signing as Napoli head coach, reports suggest.
After being named club captain following Robin van Persie's departure last summer, the Belgian defender was dropped from Arsene Wenger's starting eleven during the second half of the campaign, starting just three games in the final three months of the season.
Reports have suggested that the Gunners could listen to offers for the 27-year-old this summer, with Benitez keen to enlist his services and he begins his latest regime in Naples, the Mirror suggests.
The former Liverpool and Valencia manager was appointed head coach last week following Walter Mazzarri's decision to leave the club after leading them to a second place finish in Serie A.
After signing a two year contract with the club, Benitez was assured backing in the transfer market in a bid to challenge Juventus for the Scudetto crown next season. With another Champions League campaign on the horizon, Benitez will be expected to strengthen his new side appropriately, a hugely significant job with the future of the club's talismanic striker Edinson Cavani under scrutiny.
But at the other end of the pitch, the Spaniard has already been linked with players who he initially brought to the Premier League during his spell at Anfield in Daniel Agger and Martin Skrtel, but the out of favour Arsenal centre half presents another option.
A £10 million signing from Ajax in 2009, Vermaelen had been a fixture of Wenger's back four up until March of this year. With his form deviating at alarming levels, the Gunners boss opted for the combination of Laurent Koscielny and Per Mertesacker for the remainder of the season, circumstances that left the Belgian frustrated.
"I'm happy at Arsenal. I didn't play much and that was frustrating, but things can turn around quickly," Vermaelen said earlier this week.
"I was on the bench, but I could just as quickly be playing again. I'm working hard to make that happen."
While Benitez is yet to make a formal move for Vermaelen, one man who thinks the Belgian international would flourish at the Stadio San Paolo is Damien Comolli. The former Tottenham Hotspur and Liverpool director of football believes Benitez will excel in Serie A and identified the Arsenal defender as someone who could benefit from the Spaniard's tutelage.
"Vermaelen? He would be perfect in Italy and especially for Benitez's game," Comolli told RadioTargato Italia. "He could be his new Agger."