Arsenal goalkeeper Wojciech Szczesny admitted that being dropped to the bench last season forced him to work on his fitness to regain the number one spot at the Emirates. The Poland international saw his form drop during the previous campaign, which forced Arsene Wenger to replace him with Lukasz Fabianski.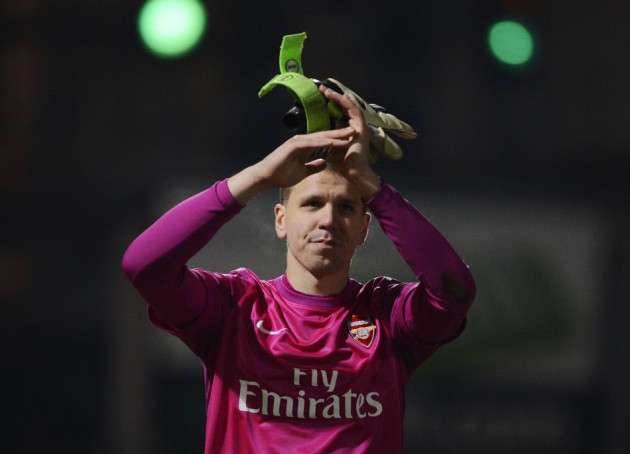 "I worked really hard to get back into the team and when I did I thought I did pretty well. It was good decision by the manager. Lukasz was in better shape at that moment in time, he came in and did really well," Szczesny told www.arsenal.com.
"I worked on my fitness and sharpness and came in much earlier every day to work in the gym with the fitness coaches and the physios. There was a lot of stuff to be done - I realised I wasn't in the best shape, but it all worked out pretty well," he added.
The 23-year-old also went on to express his disappointment after being forced to sit on the bench but backed the 63-year-old manager's decision to omit him from the starting lineup.
"Obviously I had mixed feelings about my form last season, I had my ups and downs. It wasn't nice [to be left out] - you want to be playing every week. But then again, the most important thing is the team and that is what the team needed," the Pole said.
Arsenal have gone without a silverware for close to a decade. Wenger has added Yaya Sanogo, Mathieu Flamini and Mesut Ozil, along with a loan move for Palermo keeper Emiliano Viviano to the squad as the Gunners are looking to end their trophy drought.
Szczesny is eyeing to win a trophy with the north London club this season. In addition to this, he is working hard to regain the number one spot at the Emirates, especially with Viviano and Fabianski providing competition.
"Hopefully I can be the Club's No 1 this season. It is important, I want to win a trophy for this club because that is what is missing in my career and I'm sure it is what the fans have been missing. It's a big season," Arsenal keeper concluded.