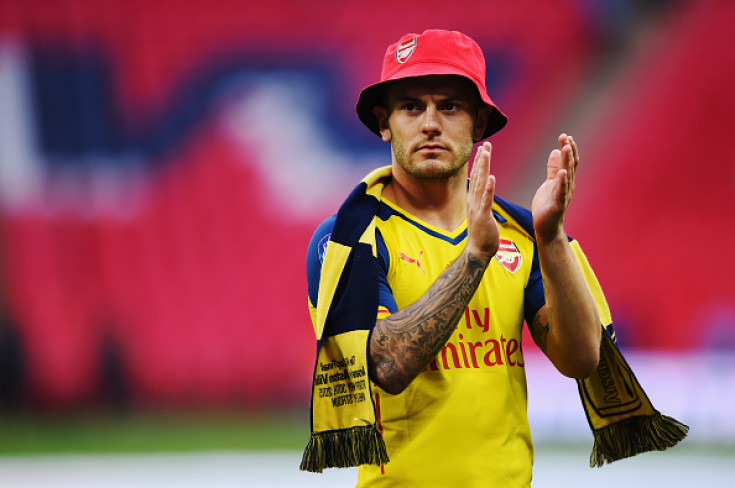 Arsenal are planning to make Jack Wilshere among the highest earning members in the squad to fend off interest from the likes of Manchester City, according to the Daily Mirror.
The 23-year-old has been heavily linked with a move to City, with the Cityzens looking to sign top home grown talent in a bid to meet the FA's stipulations over participation in the Premier League. The 2013/14 champions have been linked with Raheem Sterling, for whom they have had a £40m ($63.5m) bid rejected by Liverpool in the summer.
Arsenal are willing to offer Wilshere a revision on his wages to take it up to £100,000-a-week, with three years still left on his current contract.
Wilshere has failed to live up to expectations at Arsenal, owing mostly to a myriad of injuries that has held back his progression. He was out for five months last season after a tackle from Paddy McNair in Arsenal's 2-1 loss to Manchester United at the Emirates. He nonetheless, came back strongly in the last few games of the season and showed enough promise for the years to come.
The midfielder has received the man of the match award in five of England's last seven games in all competitions with the player scoring a brace against Slovenia to lead the Three Lions to the brink of qualification to the 2016 European Championships in France.
Arsenal meanwhile are hoping that Wilshere can push on from here and scale his potential and help his club win trophies, for which they are willing to reject any bid from City, who have previously managed to poach numerous players from the Gunners.
However, with new commercial deals kicking in, Arsenal can now invest in their squad without having to sell their best players.
The Gunners added to their trophy cabinet last season by winning the FA cup for the second time in succession, making them the most successful club in the history of the tournament. Arsene Wenger also became the most successful manager, superseding Sir Alex Ferguson's record of five cups.