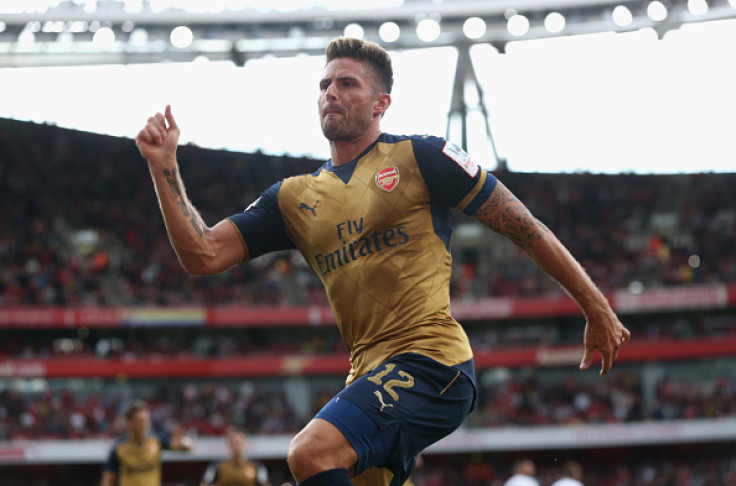 Arsenal forward Olivier Giroud has decided to take positives after being dropped to the bench in favour of Theo Walcott. The Frenchman has not started a single Premier League fixture since their 0-0 draw with Liverpool at the Emirates, but has been brought in to do a job from the bench.
The 29-year-old has three league goals thus far, one more than Walcott. However, the England international's ability to run behind the defence has edged him ahead of Giroud in the pecking order. Although, Walcott failed to score in Arsenal's 3-0 romp against Manchester United, he managed two assists.
Giroud, on the other hand, failed to score after being presented with a delectable chance from a cross by Alex Oxlade-Chamberlain in the second half against United. Now, the Frenchman has redeemed himself while on international duty with France, scoring twice within 2min against Denmark in the absence of Karim Benzema.
When quizzed about his present predicament, Giroud refused to feel sorry for himself and instead applauded Walcott for keeping his place in the squad. "At Arsenal, I am in competition with Theo for the striker position. But he is doing well at the moment, so there is no reason to change," Giroud said, as quoted by the Mirror.
"I need to take positives and to harden myself mentally. It is something new for me. Whether it was at Tours, Montpellier or Arsenal, I have never experienced a situation like this, I have often played from the start.
" I was in [Walcott's] place in previous seasons at Arsenal. I imagine what he must have been thinking. But I feel that the coach believes in me."
"It has been for several matches now that I have played less, that is for sure, but I do not need to be worried. I need a bit more game time but also to believe more in my abilities," he stated.