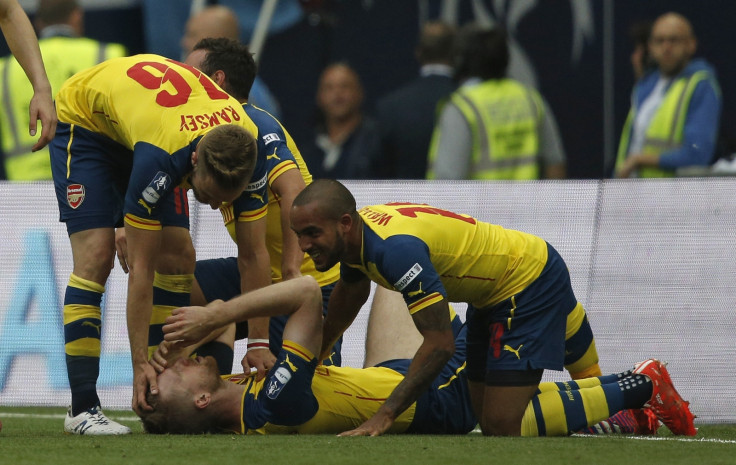 Per Mertesacker believes that the togetherness that Arsenal have shown in the second half of the season will be pivotal in their bid to challenge for the title next season.
The German, who scored the third goal in Arsenal's historic 12th FA Cup win at Wembley on Saturday, revealed that it was time that the Gunners threw caution to the winds and surged forth in a quest for further glory. This is their second FA Cup in as many years, having had to survive nine years without any major honours.
"That's what we try to build [the togetherness] and we need to improve that even more as well. The big topic for every team is to be together and show that not only off the pitch, but on the pitch as well, no matter what happens," Mertesacker told Arsenal's official website, when asked what Arsenal need to put in a proper bid for the title next season
"We have great resilience, even when we dropped points or lost, we came back stronger. Hopefully, we can continue that but we won't take it for granted. We'll celebrate as much as we can for as long as we can, and celebrate with our fans. We are looking forward to that," he added.
Meanwhile, Mertesacker added that he has a penchant for scoring crucial goals at Wembley, where he scored against England and also for Arsenal in the semi-final last year against Wigan, when they were trailing the game 1-0. He extended his tally to three in the final this year, which all but secured Arsenal's challenge to retain their trophy.
"Wembley must be magic for me. I scored against England as well as in a semi-final last season, and the final this year," he continued.
"It's always good to score and that was a decisive moment in the game to put us 3-0 up. It was a great feeling and we are a great unit. You could see how we played together. Collectively, we were absolutely great today."