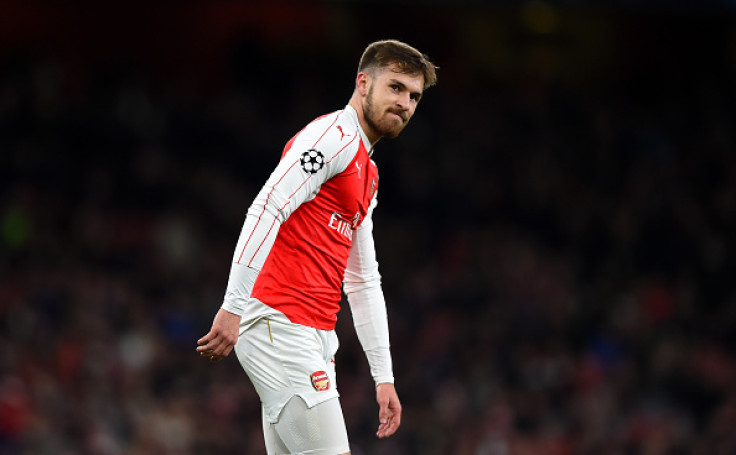 Arsenal manager Arsene Wenger has dashed Aaron Ramsey's hopes of playing in a more central role for the Gunners in the absence of injured trio Jack Wilshere, Mikel Arteta and Francis Coquelin, and revealed that the Welshman will be used on the right flank, as he has done since the start of the season. The former Cardiff City midfielder has also just returned from a hamstring injury he suffered during the win over Bayern Munich at the Emirates Stadium in October.
The 24-year-old midfielder was hoping to get a chance alongside Santi Cazorla at the heart of the Arsenal midfield following the recent injury to Coquelin, who has been ruled out for at least three months. The French manager, however, feels that pairing the Welsh international and the Spanish midfielder will be a gamble, as they both prefer to attack rather than sit back and defend. Ramsey is set to continue on the right side for the clash against Norwich on Sunday (29 November), with Mathieu Flamini set to continue to deputise for the injured trio.
Wenger also revealed that the presence of his defensive midfield trio was the reason for not buying a defensive midfielder in the summer, but the injuries to Arteta and Coquelin have left the Gunners light in that department. The manager, though, is confident that Calum Chambers can provide good backup to Flamini, who will be the first choice for the foreseeable future, unless the manager as admitted finds suitable quality during the January transfer window.
"He [Ramsey] gives us a balance because we have Özil who is an offensive player, we have [Alexis] Sánchez, we have Giroud or Walcott and Cazorla so to balance a bit defensively, and I use Ramsey on the right. That's where I will certainly continue to use him, unless the game demands to attack," Wenger said, as quoted by the Daily Telegraph.
"Defensively, certainly, it's a very adventurous one [the Cazorla & Ramsey partnership]. He [Ramsey] is more an offensive player. He is not a tactical defensive player. He is not afraid to tackle but he likes to go in the box and he has a good timing of runs and he wants the ball and he wants to go forward. If you take that out of him, and you say 'Look, you have to sit now, and sit there and wait,' you kill his strengths," the Frenchman explained.
"I have seen that the turn of our results last season was when I went for a bit more stability and put Coquelin in there. Now I am a bit cautious on that front and I do not want to unbalance the team."
"Arteta is not a Coquelin but he is a tactical player who loves to sit now. In my mind I always had Arteta and Flamini and Coquelin. Now with Arteta and Coquelin both injured we are of course a bit short. That's why I play as well Calum Chambers for 10 or 12 minutes on Tuesday to see how he positions and we are happy because he can do it," Wenger concluded.