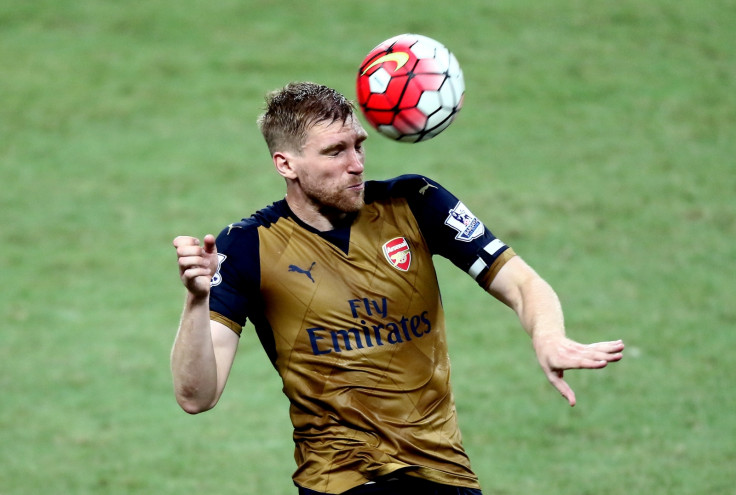 Arsenal defender Per Mertesacker has escaped unhurt after his car skidded in torrential downpour near the central reservation area of the M1. The defender is back in training and is expected to travel with the squad to Croatia where the Gunners are set to play Dinamo Zagreb in their first group game of the Champions League.
The Mirror quoted a source as saying: "He was shaken up but not injured. No other vehicles were involved and there was no one else in his car. It's not a big deal. Per is fine and ready to return to training."
The German was out of the Arsenal side since their game against Liverpool before the international break after an ailment. Brazilian defender Gabriel has since taken his place and the 24-year-old proved his mettle by keeping three clean sheets on the bounce, making it difficult for Mertesacker to reclaim his place.
The Gunners have a tough few games ahead and with the likes of Danny Welbeck, Jack Wilshere and Tomas Rosicky out of contention, Arsene Wenger needs his best players to return to full fitness or fear opening up a big gap between themselves and league leaders Manchester City. The north London club are currently fourth in the league, five points behind the leaders, while level on points with Manchester United.
Meanwhile, Arsene Wenger believes that Mertesacker's difficulty in getting into the Arsenal squad following a series of strong performances by Gabriel should be seen as an upside rather than the other way around. The Frenchman alluded to the media's recent clamour over signing a striker and stated that the Mertesacker problem reveals how difficult it is to have a large squad and keep everyone happy.
"He should not worry. He should just come back and play. It is good we have four centre-backs and this produces a problem. If Walcott plays and scores everybody says that Walcott is good but before the game everybody says I should buy a striker but if I had a bought a striker then Walcott would not have played. So it is always a vicious circle and at some stage you just have to believe in your players and Gabriel has shown that he can play with Mertesacker, he can play with Koscielny and he can be a great defender," Wenger told Arsenal's official website.