Petr Cech believes Philippe Coutinho's equaliser against Arsenal at the stroke of half time was the turning point in the game as Liverpool came back from being a goal down to win the contest 4-3. The Gunners took the lead through Theo Walcott, who had missed a penalty only 69 seconds earlier and were cruising in the first half before a peach of a goal by the Brazilian saw them go into the break all square.
Liverpool came back stronger in the second half and scored three quick-fire goals to take the lead but the Gunners led a fightback of their own, scoring two sharp goals, but ran out of time for the equaliser. The defeat has led to a shout of discontent from all quarters, with fans and pundits tearing into the north London club for their lack of transfer activity this summer.
To top off the performance, they have also lost Alex Iwobi to a thigh injury and Aaron Ramsey for a month with a hamstring strain. Their problems were accentuated in defence, where they were without three first choice defenders and had to play Rob Holding and Calum Chambers at the back.
The young centre-back pairing did well in the first half but were found out in the second when Liverpool put them under pressure. Had the Gunners not conceded the equaliser, they would have held on and taken full points from the fixture, Cech believes.
"I thought for the first 45 minutes we were excellent," Cech told Arsenal's official website. "We played well, we got a goal, we had opportunities and we missed a penalty, but the reaction was great because we scored two minutes later. It was a perfect start for us.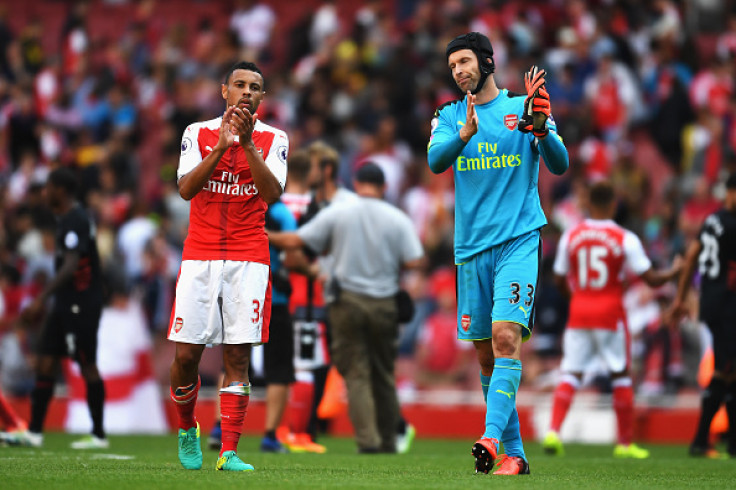 "The moment shifted when they got an equaliser in the last minute of the first half. I thought if we concentrated and continued to play well we were going to win the game but, within a 15-minute spell, they scored three and decided the game.
"We started much slower in the second half. Once they got to 2-1 up, the game changed because they could wait to counter-attack and this is where they damaged us. We had a great reaction to come back into the game at 4-3, but we didn't have enough time to equalise."