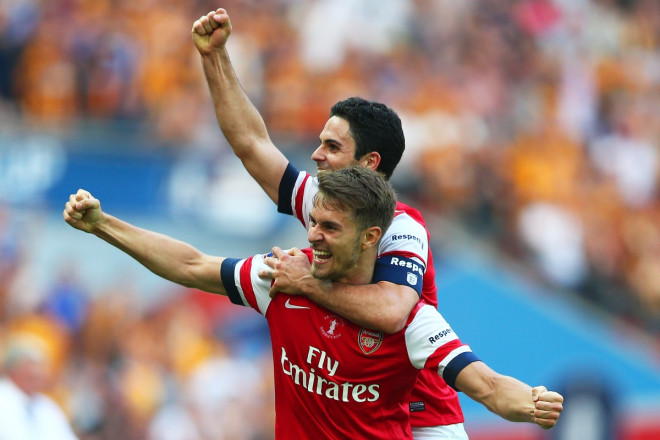 Arsenal midfielder Aaron Ramsey has refuted rumours of him needing a surgery in the summer which will put him out of contention for the start of next season.
The 23-year-old was the standout player for the Gunners last season, scoring 10 goals and assisting eight in the league. Arsenal sorely missed him in their quest for the league title when he was out for three months with a thigh problem.
Arsenal, who led the table for 128 days, more than any other team in the top four, stumbled out with Ramsey's absence, conceding five goals against Liverpool and six against Chelsea while losing to Stoke City and drawing against Swansea and Southampton on the way.
Their 3-0 loss to Everton marked the end of their challenge for the title race, a game where Ramsey made his return as a second half substitute.
His return was met yet again by an Arsenal surge as they won their next five games to secure their position in the top four and qualify for the Champions League for the 18th year in succession. The midfielder also scored the winner for the Gunners in the finals of the FA Cup thus ending their nine-year-long wait without a major trophy.
As a result, rumours of him needing a surgery had put Arsenal fans in a state of panic, which was quickly alleviated by the midfielder's timely response.
"Please ignore any stories about me needing surgery. They are completely false. I'm enjoying my summer and already can't wait for pre-season," Ramsey said on Twitter.
Ramsey has seen a meteoric rise in performance over the past season and earned himself the right to be called among the best midfielders to ply their trade in the Premier League.
A fit Ramsey, followed by a few crucial signings in the summer will see the Gunners challenging the title yet again this season, having failed to live up to their billing in the last.