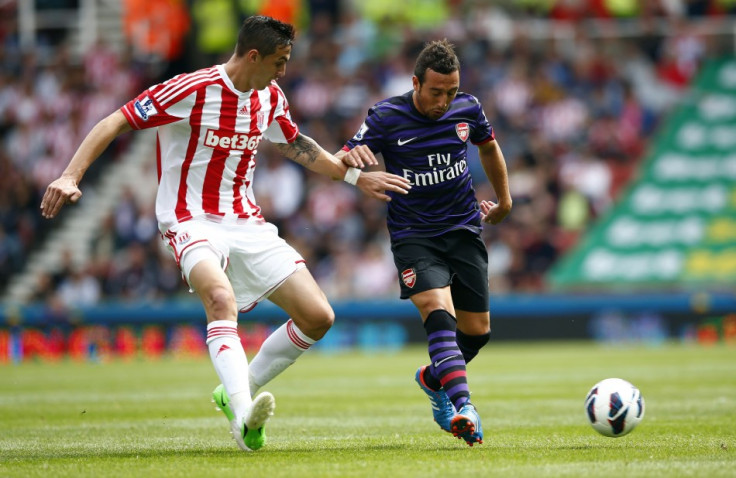 Santi Cazorla says his teammates, along with Arsenal's philosophy on attacking styles of play, have helped him settle in at the Emirates very quickly, with the Spaniard continuing to shine for the club as they push to end their trophyless run.
Cazorla made the move to the Gunners in the summer, and has since been integral to the squad as they aim to make waves in both the Premier League and Champions League.
Last season the side's poor start proved to be their undoing, but this time around they have begun full of positivity for a bright future, and Cazorla couldn't be happier that he chose to move to Arsenal and be a part of that future.
"The football is a lot quicker than in Spain but not as tactical," he told the Arsenal website. "Here it seems that teams' first priority is to attack instead of defending their goal, which is great. It's a huge change for me but I hope to keep on improving.
"As I've said before, it is thanks to the Club, my team-mates and Arsenal's footballing philosophy that I've found it easier to integrate into the side and into the Premier League in general.
"I'm happy. I still think I've got room for improvement, and so do the team, but we hope to keep on improving."
Cazorla played for Malaga for one season before making the move to Arsenal, and the 27 year old says he can see good things in both the Spanish and English leagues as he makes his transition to the Premier League.
"It's difficult trying to pick one [European] league over the others," he explained. "There are massive clubs in many of them, especially in the Spanish and the English leagues.
"There are very good teams competing with each other, for example in European competitions with Chelsea winning the Champions League last year, and Barcelona winning it before that. It's very difficult to choose between the two."