Spanish midfielder Santi Cazorla believes that Arsenal must find a way to kill off games if they are to have any hope of competing for the Premier League title this season.
The north London side have slipped to 10th in the league after a disastrous 2-0 home defeat to Swansea at the weekend that further highlighted the problems that Arsene Wenger faces this season.
His side have struggled to create chances in recent weeks, highlighted in the defeat to Swansea and the goalless draw with Aston Villa, while earlier in the season they dropped points after being in winning positions.
Cazorla has been one of the shining lights as he has continued to excel, but he has warned that they will struggle to challenge the two Manchester clubs if they cannot become more consistent and learn to kill off games.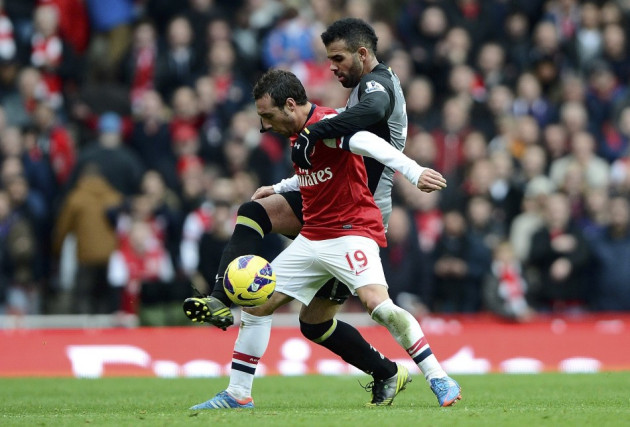 "We don't know exactly what the problem is," Cazorla told the Daily Mail. "'It's true that we're inconsistent. I believe that to challenge for the Premier League, those games can't get away from us. Take the Fulham game, we were 2-0 up. You can't then be drawing within five minutes. Those points aren't coming back.
"And the other day against Aston Villa, there's a game which I believe we really had the desire to win, because these are points that we can't let get away. Then you see City, United winning on those days. That's the difference. To fight for the title, it's about taking points from those teams.
"It's a little bit frustrating. We're a good team, good players, training well. But there are moments in those games when we don't know how to control them. There's a significant gap between us and United and City. They've got away a bit. We have very little margin for error."
Arsenal are already 15 points behind Manchester United and are five points behind bitter north London rivals Tottenham who currently occupy the final Champions League place.
In fact Wenger's side have only managed to win five of their opening 15 Premier League games this season and have particularly struggled in front of goal without Robin van Persie.
Cazorla would undoubtedly have loved to play with the Dutchman, who departed in order to win trophies he believed could not be delivered at the Emirates, but he does not see his departure as a negative as he believes Arsenal still have a squad capable of challenging for major honours.
"Van Persie and Fabregas, they might have been thinking that way. If I remember right, it's eight years without a title. Then when clubs like Barcelona and United come along, these are big clubs," states Cazorla.
"But so are Arsenal, they are always in contention for the Premier League, for the Champions League. At a club like this, you always think you can win titles. Hopefully, we can. The squad are capable of it."