Arsenal have postponed contract talks with key attacking duo Alexis Sanchez and Mesut Ozil until the summer, according to Arsene Wenger. Both players' current deals are due to expire in 2018 and negotiations have thus far proved fruitless amid plenty of inevitable transfer speculation.
Rumours regarding an imminent exit for Sanchez ramped up last month after he was dropped to the bench for a 3-1 Premier League defeat at Liverpool amid reports that he had stormed out of a training session before being confronted by teammates. Juventus seems the most likely destination for him, while The Telegraph now claim that Fenerbahce are considering a summer move for Ozil - who is said to have been offered an extension worth £200,000-a-week - with Arsenal looking to recoup at least £30m ($37.4m) of the club-record £42.4m they spent to sign him from Real Madrid back in 2013.
Asked if there had been any progress specifically with regards to Sanchez's contract, Wenger told beIN Sports: "Look, at the moment we have not [reached] an agreement. We decided to focus on the end of the season and talk about it during the summer.
"It is the same situation with Ozil, because once you don't find an agreement and it lasts, it's not good. So it's better you get it out and sit down during the summer."
With his latest deal up in June, Wenger's own contract situation has obviously been the subject of intense scrutiny over recent months.
The long-serving Frenchman confirmed after last weekend's 3-1 defeat at West Bromwich Albion – sixth-place Arsenal's fourth defeat in their last five top-flight matches - that a decision over his future had been made and would be revealed "very soon". Widespread reports subsequently suggested that he has decided that he wants to stay put.
"My news is that I have no news for you," Wenger said. "No matter how long I stay, I will be committed and completely focused as long as I stay at the club.
"How long I stay doesn't really matter because as long as I'm there, I'm completely focused on achieving the best with the club. At the moment we are going through a difficult period with results, so I think it's much more important to focus to get it right again.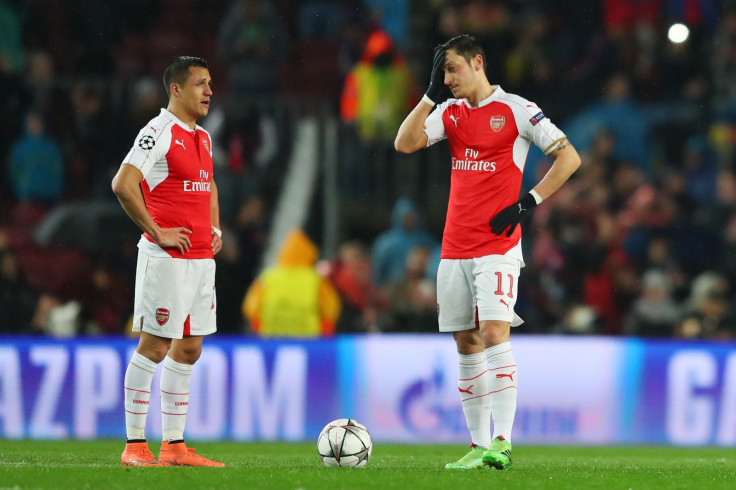 "We suffer a lot at the moment, but when you take a little bit of distance and put things into perspective, we have two games in hand, we are in a semi-final of the cup against [Manchester] City. Our season will be decided by how we respond now to the difficult period we have."
Two banners were flown over The Hawthorns during the early stages of Saturday's match, one demonstrating opposition to Wenger's leadership and the other pledging unwavering support for English football's longest-serving manager.
"Of course [I had mixed feelings]. My job is to make 100% of people happy and if you look at where the club was when I arrived and where it is today, I'm quite proud of what I did for the club.
"Today we live in a period where people are very demanding and I can understand that, but I know as well that I've guided this club through very difficult periods with very, very limited resources. I managed always to get the best out of the team and that's what I will do as long as I am at Arsenal Football Club."
When questioned if another fourth-place finish and a 13th FA Cup victory would constitute a successful season for the Gunners, Wenger added: "Of course it will be a disappointment not to win the championship and after that you have to do as well as you can.
"We play in the position at the moment where we have to fight to finish as high as we can and then let other people judge. People judge your work. My job is not to judge, my job is to produce and let other people judge".