Arsenal have renewed a shirt sponsorship deal with Emirates Airlines. The new agreement is for a period of five years and is for a sum of £150m, which the club claims is one of the most lucrative in the sport. More importantly, the deal should allow Arsene Wenger to close the financial gap between the Gunners and other leading Premier League clubs like Manchester City and Chelsea. The north London club's previous deal was worth £100m over eight years. The deal will see Emirates retain naming rights to the stadium till 2028.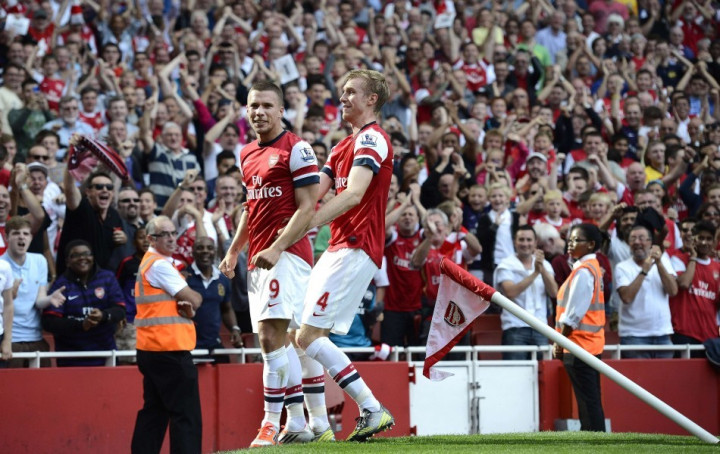 "This is an exciting day for Arsenal Football Club and all our supporters. The agreement is a testimony to Arsenal's approach and to the capabilities we have developed in recent years as well as the strength of our partnership with Emirates. The original deal with Emirates was a key facilitator of our move from Highbury and this next phase of our relationship will be just as critical to keep us at the top of the game in England and Europe," the club's chief executive Ivan Gazidis explained.
The news will highlight earlier comments made by the South Africa-born businessman, which stated the club would be ready to fight for trophies (the last time Arsenal won a title was the 2005 FA Cup) once lucrative sponsorship and commercial deals were in place.
The deal appears similar to that between rivals Manchester United and American car manufacturers Chevrolet, which was announced earlier this year. According to those terms, the Old Trafford club will receive £196m over seven years.
"Arsenal's strong appeal around the globe and ambitious approach to the game parallel our own approach to business, making them a valuable partner for our brand. We continue to see immeasurable value in our global sports sponsorships and our sponsorship with Arsenal is no different. The Club has been an important enabler of the growth of our business over the last decade and we are confident this will continue as part of our extended deal," His Highness Sheikh Ahmed bin Saeed Al Maktoum, chairman and chief executive of the Emirates Airline and Group, said.