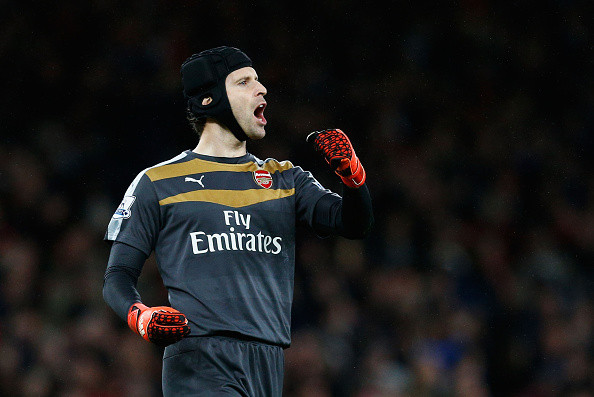 Arsenal goalkeeper Petr Cech has tipped Matt Macey for a great future at Arsene Wenger's side after the 21-year-old academy goalie showed a "positive attitude" while covering David Ospina's recent absence due to injury. The former Chelsea legend believes Macey had a "chance to get better and to stay in the first-team" due to his constant willingness to improve.
Having moved to the Emirates Stadium in 2013 from Bristol Rovers, Macey established himself in the under-21 side before enjoying a spell at League Two side Accrington Stanley in the second part of last season. Wenger decided this summer to hand him a chance to be his third-choice keeper behind Cech and Ospina, following the loans of Wojciech Szczesny and Emiliano Martinez to Roma and Wolverhampton Wanderers respectively.
Cech says Macey had seized his six consecutive games on the bench while deputising for injured injured Ospina to prove he had what it takes to establish himself in the first-team one day.
"One thing that is very positive is Matt is very into the work and is willing to improve, to learn and take information on board and understand what it takes to be in the first-team," Cech told Arsenal Player. "That is very important because being a part of the first-team is one thing but staying there and continuing to develop is another. He is constantly willing to improve and learn and this gives him a chance to get better and to stay in the first-team."
The veteran Arsenal keeper says that he has been trying to mentor the young keeper in order to keep his feet on the ground.
"When you are young, you want everything to happen quickly and certain things that don't go perfectly or go your way can put you off a little bit. But the older players have the job to let the younger ones know that everything takes time and to keep working and it will happen," he said. "In that way it is easy to work with Matt because he has that willingness to work and to improve and, when you see things happening, you can just say to relax this, try to do this or don't try to do this.
"Just little things that can help people to understand there are ways to do things that are probably better than what they are doing or upgrade what they are doing. Football is about small details and you can help people do better."