Arsenal Star Santi Cazorla: 'Chelsea Are Unreachable So Gunners Have Top-Four Target'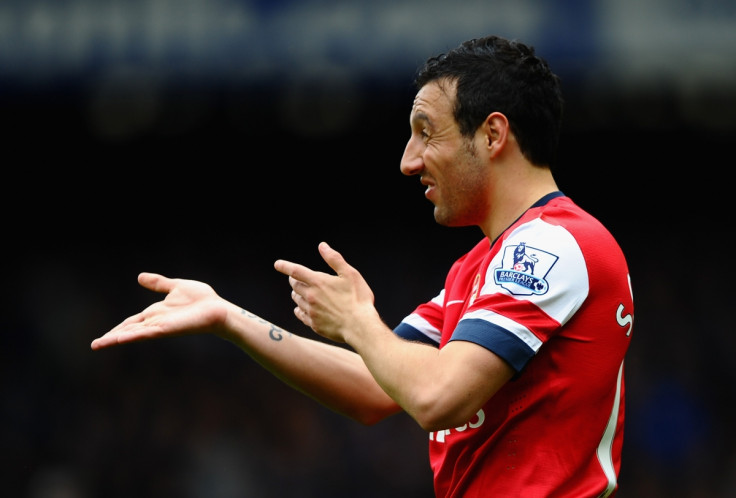 Santi Cazorla has told IBTimes UK Arsenal are aware that winning the Premier League is not their target anymore as Chelsea are proving to be unreachable.
Following back-to-back league defeats against Swansea and Manchester United, Arsene Wenger's side are eighth in the table, 15 points behind Jose Mourinho's side after only 12 games.
Having spent around £80m during the summer on the likes of Alexis Sanchez, Danny Welbeck and Calum Chambers, the Gunners expected to fight with both the Blues and Manchester City for the Premier League title.
However, Cazorla admitted that target has changed and their short-term aim now is to finish in the top four rather than winning the title.
"At the beginning of the season we had the hope to win the Premier League and every competition but we know that now is very complicated," the Spaniard said to IBTimes UK.
"Chelsea are very strong and they lead the table with many points from us, so we are aware it will be difficult to fight for the title. Now we have to look at other short-term targets like securing the Champions League places."
Cazorla believes the poor starts to the campaign by rivals such as Liverpool, Tottenham and Manchester United will help them to secure the top four, although Louis van Gaal's team are currently two points ahead of Arsenal in fourth place.
"Even though we have had a bad run we are been lucky about our rival's results. They are not getting good results either and the Champions League places are just two points away," Cazorla said.
After beating Borussia Dortmund on Wednesday 26 November to secure qualification for the Champions League last 16, Cazorla hopes to convert their spirited performance to the Premier League, in their visit to West Bromwich Albion on Saturday 29 November.
"Against United the defeat was unfair. We deserved to win and we lost just because of minor mistakes.
"Against Dortmund we played more than a team. We knew that we had to win to secure the qualification and the victory is a boost for the coming games. We hope it will mean a turning point to change also the Premier League situation."
© Copyright IBTimes 2023. All rights reserved.