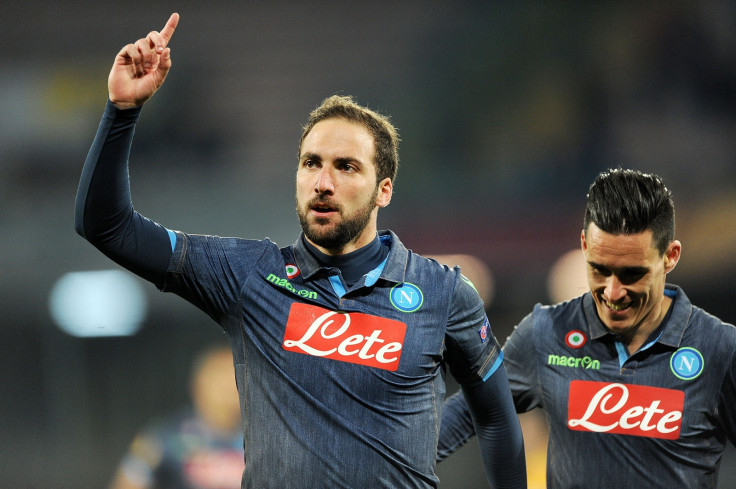 Napoli president Aurelio de Laurentiis has sought to cool renewed links between Arsenal and Gonzalo Higuain, categorically stating that there is no chance the striker will leave the Stadio San Paolo this summer and pointing to his substantial release clause as a deliberate barrier to any further exit talk.
Argentine international Higuain moved to Serie A from Real Madrid in 2013, yet his future in Serie A has been subject to constant speculation during successive transfer windows with the player having impressed with 35 league goals during his two-year stint in Italy to date.
Rumours regarding a potential move to long-term suitors Arsenal appeared to resurface yet again earlier in July after reports from Corriere Dello Sport supposedly claimed that Higuain was pushing for such a transfer to happen amid claims that the Gunners had submitted an opening offer worth approximately £43.3m ($67m, €62m).
On Tuesday (14 July), De Laurentiis was said by The Independent to have stated during a conversation with a supporter that he would like to sell the 27-year-old for €90m in order to fund up to eight new signings for Napoli.
While the general tone and seriousness of those comments was not made explicitly clear, his most recent statement regarding the future of Higuain leaves no doubt whatsoever as to the club's position moving forward.
"There is absolutely no chance that Higuain will leave," he told television station Mediaset as reported by the Press Association.
"Gonzalo is a Napoli player. I have made his [release] clause clear in order to stop the constant speculation that appears in the press. There is a precise clause."
Prior to De Laurentiis' latest update, agent Nicolas Higuain had openly discussed his brother's situation by revealing that no clubs had been in contact with him directly and he was unsure why constant reference was being made to that aforementioned €94.7m release clause given that Napoli seemingly want him to stay.
"No club has asked me about Higuain, and I wonder why De Laurentiis keeps talking about the clause," he told Radio Crc. "The last time I saw De Laurentiis was at San Paolo after the Lazio match, having dinner with the team and former coach [Rafael] Benitez.
"Only the president talks about Higuain's clause and it make it look like he wants to sell. I think if Napoli wants to fight for the Scudetto they shouldn't let Higuain go."
"No team has asked me for Higuain, I don't know if De Laurentiis has had any offers, because, as I've said, I haven't heard from the president for a long time, but I think he'd have called me if there was something concrete."
Higuain featured at the 2015 Copa America in Chile, but did not enjoy the best of tournaments and missed a penalty in Argentina's shootout defeat that secured the hosts their first ever title.