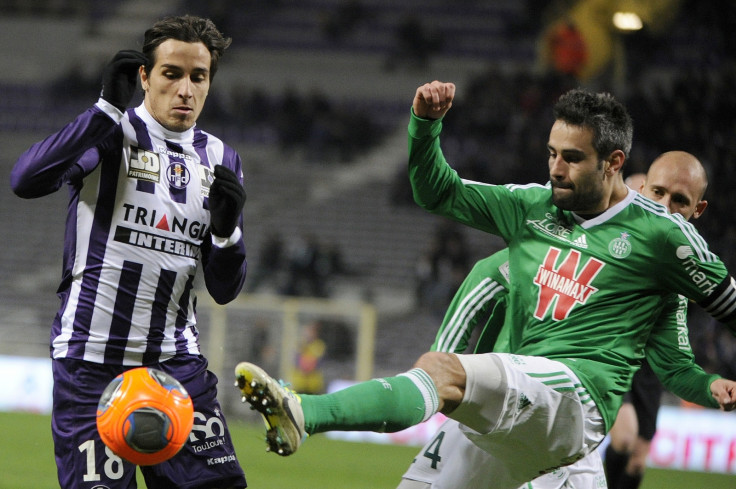 Saint-Etienne captain Loic Perrin has hinted it would be very difficult for him to turn down an offer from Arsenal this January.
Perrin, 29, has confirmed an approach from the Gunners in recent weeks although his agent has since stressed there has been no follow up to their initial enquiry.
The Frenchman, who has been at the centre of Ligue 1's meanest defence this season, has continued to be linked with a move to north London and speculation is likely to heighten following another injury to stand-in centre-half Mathieu Debuchy.
And while Perrin insists he would not leave Saint-Etienne for just any club, he admits an offer to play at the Emirates Stadium would tempt him.
"There are always rumours, though Arsenal made enquries and contacted my agent. But Saint-Etienne has always been important, full stop," Perrin was quoted as saying by L'Equipe.
"I have always said that Saint-Etienne are my club and if I go, it would be to take the next step. When it comes to Arsenal, we are not just speaking about any club."
Arsenal manager Arsene Wenger was quizzed on his reported interest in Perrin in a press conference at the start of January but played down reports of ongoing talks with the defender.
However, after seeing Debuchy suffer a dislocated shoulder in the 3-0 win over Stoke City on Sunday 11 January, having only just returned from a broken ankle a month ago, Wenger's need for defensive reinforcements has heightened.
"Not so much because we were in the market anyway," the Arsenal manager told the press when asked if Debuchy's injury would force the club into making transfers.
"[Nacho] Monreal and Debuchy can play centre-back but, if Gibbs is not here, Monreal cannot play centre-back and, if Debuchy is not here, he cannot play centre-back."
Arsenal are yet to make to make any serious movement in an attempt to bolster their squad but have allowed Lukas Podolski to leave the club on loan.