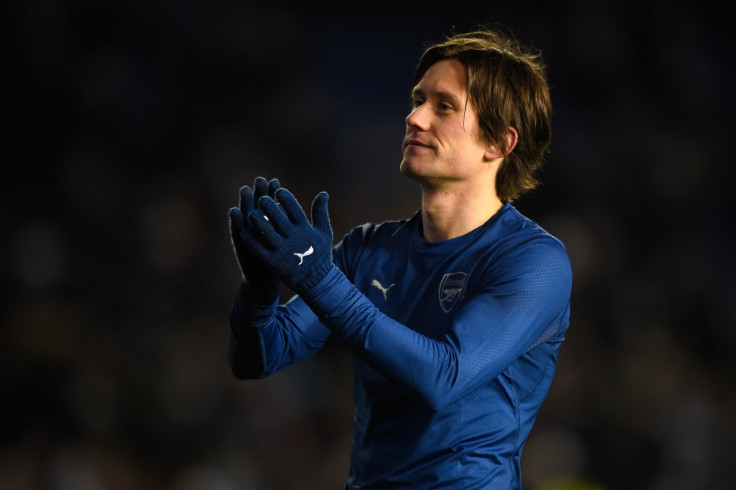 Arsenal manager Arsene Wenger has confirmed that Tomas Rosicky will miss the Premier League game against Southampton 2 February after the veteran midfielder picked up an injury in the FA Cup win over Burnley. The French boss, however, denied reports that Jack Wilshere had suffered a setback in his recovery, and assured that the England international is expected to return to action within the month.
Rosicky made his first appearance of the season as a 71st-minute substitute in the 2-1 win over Burnley, following groin surgery last summer. The Daily Mail reported after the game that he had picked up a knock in his thigh, which would seem him out for around a month. Wenger has now confirmed those stories, but refused to set a calendar for the player's recovery.
"The team news is that we have all the players that played on Saturday available again. The only problem we have is that we lost Rosicky through injury," Wenger said. "We have to assess one or two. Overall the situation looks quite good for everybody else.
"[Rosicky] has a thigh problem, a muscular tendon problem, but we don't know how bad it is. It happened three or four minutes after he came on and we have to assess him today. He's not available for a while. We will know much more tonight."
Other reports suggested that Wilshere had suffered a problem while training. The England international is yet to play this campaign following a hairline fracture sustained in pre-season.
But when asked about the claims, Wenger said: "That's wrong information,"
"He is looking good. I had a short chat with Roy Hodgson about him and reassured him that he is progressing well. I'm cautious but I will say four weeks [until he is back].
The Gunners' coach also suggested Danny Welbeck could make his long-awaited return to competitive football soon, but will first need some time in the Under-21s.
"Danny has not played since April 2015 and will have to go through a game or two with the Under-21s, where we can monitor him and leave him free to play at his level of commitment," he said. "That looks to be very soon, maybe this week."
Arsenal's injury situation may be taking a turn for the better, with the club recently seeing the return of Francis Coquelin. Wenger hopes this will help the Gunners during the busy month of February, with his team currently third in the Premier League, three points adrift of Leicester City.
"I have 22 players who are fit and ready for selection so I have a good choice to make and I have to make the right selection in every single game," he said.
"The [coming weeks] can be pivotal but not decisive. They will give a clear indication of the strength of the teams and who can cope with the importance of the games. At the end of the day somebody will win and the team who will win has to go through the important games with strong performances.
"It's a big month for us. I am quite confident, having everybody available, that we can do very well. What is important now is for us to be capable of focusing and coping with that kind of expectation level.
"I don't feel that we have really struggled recently because we had two difficult away games with Stoke and Liverpool and we didn't lose. We had a bad result against Chelsea and of course, if you put the three results together, it looks like we've struggled but overall the Chelsea result is under special circumstances.
"If you take the history of our season, we started with a defeat against West Ham and the way we responded and where we are today shows that this team has the capability of responding under pressure. I'm sure that we will show that in February."