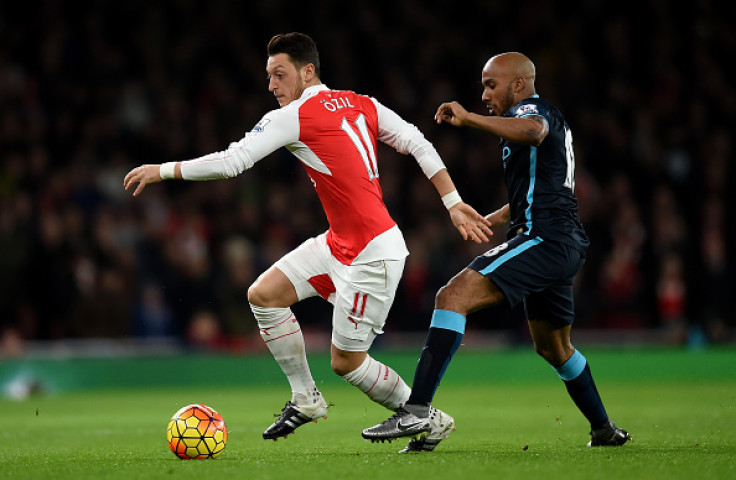 Arsenal forward Theo Walcott has praised Mesut Ozil for the creativity and vision he brings to the squad, which ultimately led to the Gunners defeating Manchester City at the Emirates Stadium. With two assists in the game, the German has taken his tally to 15 for the season so far, only five shy of breaking the assists record set by Thierry Henry for Arsenal.
Walcott was the beneficiary of Ozil's first assist, taking the ball just outside the final third and curling it past Joe Hart, who had no chance of keeping the ball out of the net. The former Real Madrid midfielder then fed Olivier Giroud just before the half time whistle, who ran behind Nicolas Otamendi and slotted the ball into the far corner.
The win has opened up a four-point gap between themselves and the Citizens, while the Gunners are trailing table leaders Leicester City by two points. Arsenal will now travel to Southampton on Boxing Day to keep the pressure on Leicester, who travel to Anfield to take on Liverpool.
"It's amazing. He's very modest. The thing about Mesut is that he sees things that most players don't even see on the pitch. He knows what he's going to do before he does it, you just have to make that run. We've got special players on the pitch who provide special moments in the match, and that makes our jobs so much easier," Walcott told Arsenal's official website.
"It's a team game but you need these players in your team if you want to continue to play as well as we are at the moment. The amount he gives to this team, the threat going forward and also defensively, he puts a shift in and people don't see that side of the game which has changed in the whole squad. Everyone's working hard and I completely cramped at the end when I was chasing Yaya, but it just shows the amount of hard work that everyone's put in this week," he said.