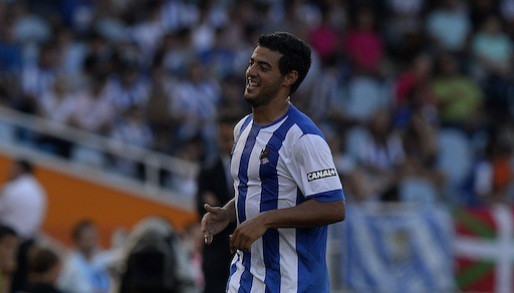 Former Arsenal forward Carlos Vela says he would consider a return to the Emirates in the future after the Mexico international repeated that the north Londoners have a buy-back clause which they can exercise in any summer transfer window.
The Gunners sold Vela to Real Sociedad after the 24 year old spent time at the club on loan in the 2012 summer. He never appeared to be in favour with Arsene Wenger in his seven years at the club, going on four loan spells in that time before he finally moved to the La Liga side.
Sociedad played Manchester United in the Champions League group stages and afterwards Vela revealed that when he left Arsenal the club inserted a buy-back clause which can be activated at any time.
"Yes they (Arsenal) have the option," he told Sky Sports, via Here is the City. "Every summer they can take the buy option.
"But for the moment it is difficult.
"They are good now... I am good now.. I don't think it is the best moment to go back to Arsenal."
When asked if he might return to Arsenal in the future, Vela replied: "Maybe."
At 24 years of age the central American hasn't yet hit his peak and so far for Sociedad this season Vela has scored three goals in 11 appearances.
Borussia Dortmund are also believed to be interested in taking on the forward should he produce and should last season's Champions League finalists make their interest concrete it could spark Arsene Wenger to take notice of the man he brought to Europe from Mexican side Guadalajara, the same club that has produced Premier League stars such as Javier Hernandez.