Arsenal have reportedly dropped all interest in Barcelona striker David Villa, after the 31-year-old Spanish international was admitted to hospital with abdominal pain. The ex-Valencia forward, who is Spain's leading goal scorer, was strongly linked with a January transfer to the Emirates.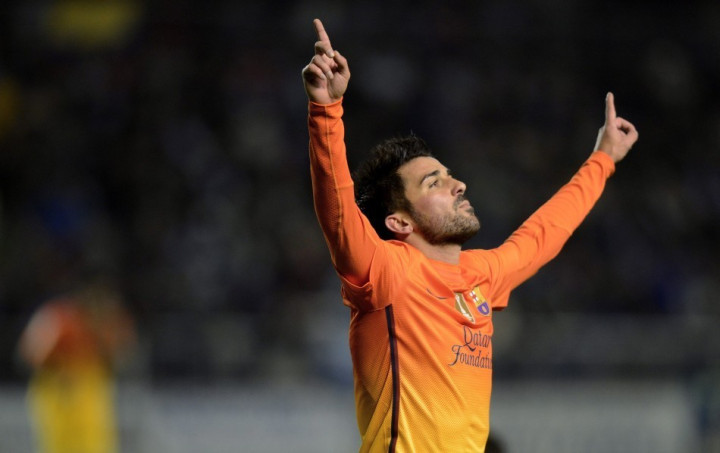 The Metro reports Arsene Wenger, who was believed to be hunting a striker to add potency to a forward line consisting of France's Olivier Giroud, Germany's Lukas Podolski and England's Theo Walcott, will no longer move for Villa.
The fact Barcelona have placed a £20m price tag on Villa's services could also have led to Wenger withdrawing; the Spaniard is undoubtedly a clinical striker and his return of 11 goals and two assists from 25 appearances this season is proof he remains a top player.
Villa has already had an operation for kidney stones and has been to hospital on two other occasions recently. In addition, given he is still returning to match fitness after a broken leg in December, 2011, means any club signing him would be taking something of a gamble.
Earlier, Spanish newspaper El Confidencial reported that Arsenal's north London rivals, Tottenham, were interested in Villa's services. And another report by the Metro suggested Villa may also have options within Spain; Atletico Madrid were rumoured to be interested.
The move to the Vicente Calderon may make sense for Villa, although he has admitted a preference for Arsenal. Atletico are likely to lose Radamel Falcao in the summer and the Gunners have been linked to another of the Spanish club's strikers - Adrian Lopez. Should Arsenal move for Adrian and Falcao leave for a more high-profile club, Villa will be a cheaper but certainly no less effective goal scorer for the Spanish capital's "second" club.
Wenger on Walcott
Meanwhile, Wenger hailed Walcott's transformation from a wide player to a central striker. The 23-year-old former Southampton player was the centre of a considerable debate leading up to the January transfer window. His contract was to expire in the summer and negotiations over an extension hinged on his being given a striker's role at the club.
"It's unbelievable. I believe what this season shows is the remarkable evolution of Theo Walcott," Wenger told Arsenal Player, "He's a complete player today and his transformation is absolutely sensational.
Walcott has 18 goals in all competitions this season.