Premier League champions Manchester City have reportedly withdrawn from the race to sign Atletico Madrid striker Radamel Falcao. The Mirror reported the La Liga club's general manager, Migel Angel Gil Marin, and the Colombian international's agent, Jorge Mendes, met with City officials at the Etihad last week. And, following discussions, Atletico were told the English club would not make a bid for Falcao without first offloading Italy international Mario Balotelli.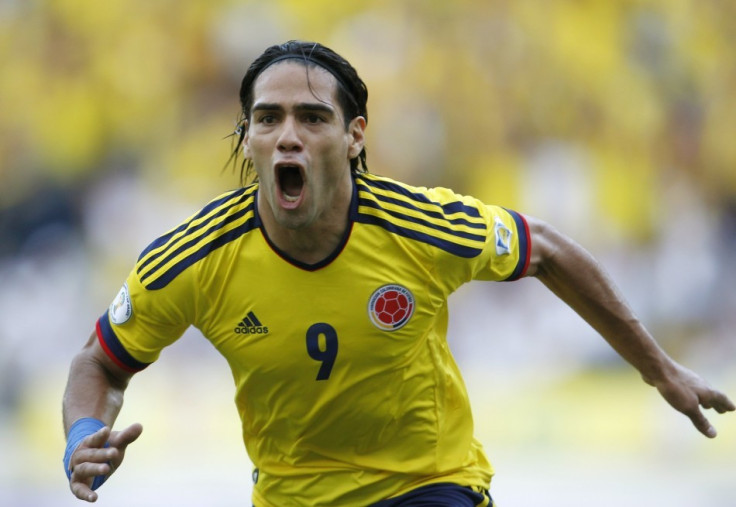 Falcao, 26, has established a reputation as, perhaps, the only contemporary footballer able to rival Barcelona and Real Madrid superstars Lionel Messi and Cristiano Ronaldo. The Colombian, who transferred to the Vicente Calderon last season, has an impressive 49 goals in 61 appearances for Atletico and 10 in 10 in the league this season.
The forward came to the attention of top clubs after a hat-trick in the 4-1 demolition of Chelsea, in the UEFA European Super Cup final earlier this season. Since then, the Blues have been joined by City and Spanish champions Real Madrid as reported suitors for the player. There were rumours of a £48m January move by the Stamford Bridge club soon after that hat-trick. And, more recently, reports that Chelsea owner Roman Abramovich has finally lost patience with ex-Liverpool striker Fernando Torres (who transferred to west London for £50m last January but has failed to deliver since then), added fuel to speculation the Russian would launch a similar bid for Falcao.
Falcao himself has admitted to an interest in playing for the Blues, although, according to comments by his father, the striker is equally interested in playing for Atletico's cross-town rivals Real Madrid. However, there has been no official comment from Chelsea or coach Roberto Di Matteo on the matter.
And as far as City are concerned, it appears Balotelli's time at the club has truly come to an end, with this report adding to earlier speculation the champions are actively searching for a January transfer. Should they manage that (and Inter Milan have been linked) then Chelsea might find themselves in a mega-money auction for Falcao.
Atletico Madrid - Premier League Nexus
Incidentally, there is now a very strong connection between Atletico Madrid strikers and the Premier League, with Spanish international Torres starting the chain. The 28-year-old moved from the Spanish capital's second club to Anfield in 2007, for a club record £26.5m. That was followed by City's present top attacker, Argentinean Sergio Aguero, moving from Atletico to the Etihad, in 2011, for £38m. And should Falcao make the move to Chelsea for a similar fee, it may lead to a poetic completion of the circle, with Torres moving back to his home town club.
The Spaniard continues to have a miserable time at the Bridge and was substituted in the second half for compatriot Juan Mata, in the Blues' 1-2 defeat at West Bromwich Albion on 17 November. The change had an immediate impact, with the more mobile and inventive Daniel Sturridge taking the central striker's role and linking well with Mata and Brazilian midfielder Oscar. Chelsea coach Roberto Di Matteo was understandably furious after the game, and although he made no explicit comments, has hinted Torres may now no longer be an automatic choice for the team.