Arsenal are on the verge of completing a deal for Gonzalo Higuain, after his father revealed Real Madrid have allowed the Gunners to talk to the player. The north London club have been pursuing the Argentine for most of the summer and are close to a club record £22m deal for the 25-year-old.
"We do not negotiate with any club without permission of the selling club. We have permission [from Madrid] and hopefully we can soon see my son in the Premier League," Jorge Higuain, the striker's father and agent, said.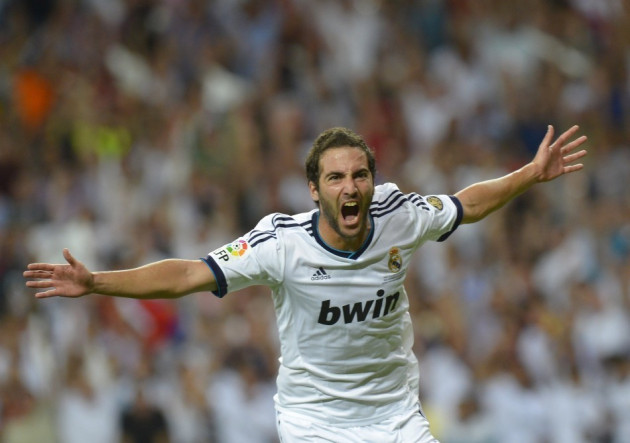 Arsene Wenger has been handed £70m to spend this summer, to stop an eight-season trophy drought. The Gunners signed two international strikers last summer - France's Olivier Giroud and Germany's Lukas Podolski - but neither was able to replace Dutchman robin van Persie, who scored 30 Premier League goals for Arsenal in the 2011/12 campaign and left for Manchester United that summer.
Higuain signed for the Santiago Bernabeu club in 2006 and although it took him time to settle down in the Spanish capital, he soon proved himself a clinical finisher and has over 100 La Liga goals for the club. However, the last few seasons have seen the South American share striking responsibilities with Frenchman Karim Benzema.
And the rotation, coupled with disagreements over wages and contract extensions, led Higuain to announce a wish to leave the club this summer.
Serie A winners Juventus were also interested in Higuain but have withdrawn following the signing of Manchester City's Carlos Tevez. Wenger is believed to want to wrap up this signing as quickly as possible, which will allow him to move on to other targets, one of whom will be a defensive midfielder.
Arsenal have already had a bid rejected for Bayer Leverkusen's Lars Bender and have been linked to Everton midfielder Marouane Fellaini. They have also been rebuffed in attempts to sign Lyon midfielder Clement Grenier, with the Ligue 1 club's president, Jean-Michel Aulas claiming his player was not for sale.
The good news for Wenger is the 22-year-old is aware of the Gunners' interest and is contemplating his options. Grenier's present contract expires next year and he has been offered a 12-month extension.
"Today, I honestly cannot answer that, my future is not fixed. I have an appointment with the president, the coach and my representatives in order to discuss all this. A meeting that can come very quickly, surely right after out return from training camp [in Tignes]," Grenier said.