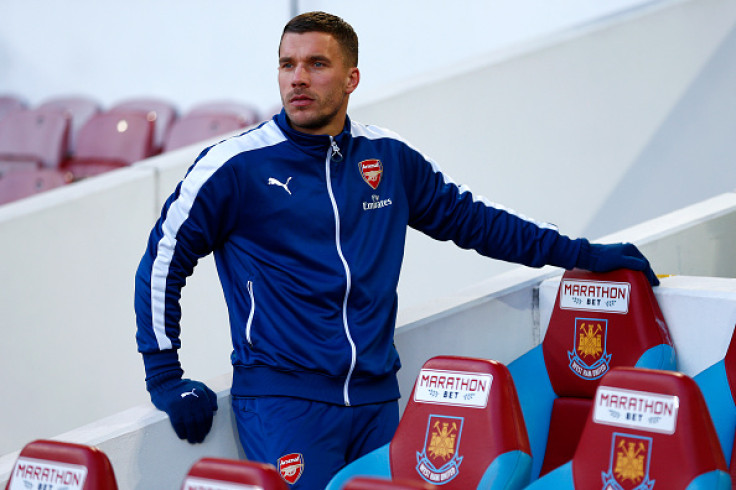 Arsenal forward Lukas Podolski will officially sign a contract at Galatasaray on 4 July, the Turkish club have confirmed.
The German international has seen his first team appearances being limited, which forced him to spend the second half of the 2014/15 season on-loan with Inter Milan. He returned to the Emirates and was not included in Arsene Wenger's plan for the future.
Podolski's agent Nassim Touihri admitted the Gunners manager has already sanctioned his client's transfer. The Turkish outfit confirmed on 4 July the negotiations have already started with the north London club in helping the 30-year-old complete the switch to the Türk Telekom Arena.
"Formal negotiations have begun with Arsenal FC over the transfer of Lukas Josep Podolski, with the player to arrive in Istanbul [on Saturday] morning for medical checks at the Istanbul Liv Hospital. The public will be informed of developments," a statement read on Galatasaray's official website read.
Galatasaray now confirmed the player will sign a contract with the Super Lig side after leaving Arsenal.
"Germany number 10 Lukas Podolski will officially sign the contract at the Türk Telekom Arena today at 16:30 local time, 15:30 CET," Galatasaray tweeted.
The former Bayern Munich is off Arsenal's wage book and his departure allows Arsene Wenger with Olivier Giroud, Danny Welbeck and Theo Walcott as the first choice players in the striker role.
Meanwhile, Arsenal defender Hector Bellerin claims his goal against Arsenal against Liverpool at the Emirates during the 2014/15 season was the best moment of his career so far. The right-back opened the scoring as Wenger saw his men seal 4-1 victory over the Reds earlier in April.
"When I saw everyone standing up and cheering for the goal I couldn't believe it. Did I really just score against Liverpool at home?" Bellerin told Arsenal's official website.
"It was a great feeling and the fans' response to make us keep pushing so we got two more goals straight after was something that you feel. You feel the adrenaline that they give you and make you push forward.
"That's one of the best feelings I've had in my career, scoring the first goal against Liverpool, at home at the Emirates. It was just amazing, but the response from the fans and my teammates made it even more amazing."