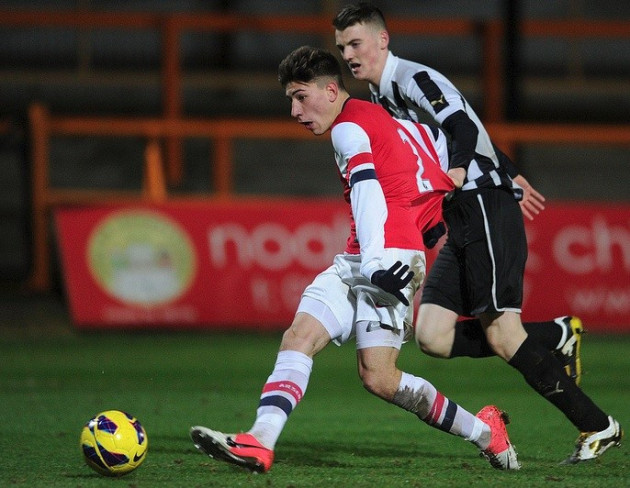 Hector Bellerin says he's over the moon that Arsenal have offered him a professional contract as the 18 year old aims to prove his worth to Arsene Wenger next season.
Bellerin signed for the Gunners from Barcelona in 2011, and has moved through the youth levels in north London at a rapid rate, prompting Wenger to tie up the teen in a long term deal this summer.
Arsenal could be looking for more cover in their defensive line-up if Bacary Sagna leaves this summer and the youngster is another of the club's buys from Barcelona that is been touted for future success in the Premier League.
Bellerin says that he's very comfortable with the idea of staying at Arsenal for the long term and wants to break into the first team over the 2013/14 campaign.
"I'm over the moon about the new contract," he told Marca. "It represents another step forward and I'm really happy at Arsenal. It's a privilege to have signed on with them.
"They'd told me I was going to be rewarded for my performances during the season and I'm thrilled. Knowing that they believe in me only increases my motivation. Now I'm raring to get back into the swing of things and start training ahead of next season."
Bellerin joins a Spanish contingent in the Arsenal first team squad which includes Santi Cazorla, Mikel Arteta and Nacho Monreal who have all shown to be important members of the line-up over the last season.
And the youngster, who is hoping to break into the international squad as well, says that having a group of players from his home country around him makes Arsenal feel even more like home.
"We're a proper 'Spanish armada' now!" he joked. "It's a pleasure to be around them, because they're always willing to help you out and they treat you as equals when you train with them.
"It makes me proud to be at the same club as players of their calibre."
The youngster's experience at Barcelona has certainly served him well and a loan spell is still a possibility for next season as Wenger looks to get the best out of the teen.