Arsenal have been dealt a killer blow in their pursuit of striker Karim Benzema, with the player's agent stating that the Frenchman intends to extend his stay at the Santiago Bernabeu. The 25-year-old has been linked with a £40m move to the Emirates, but his agent Karim Djaziri has stated that no contact has been made with the player.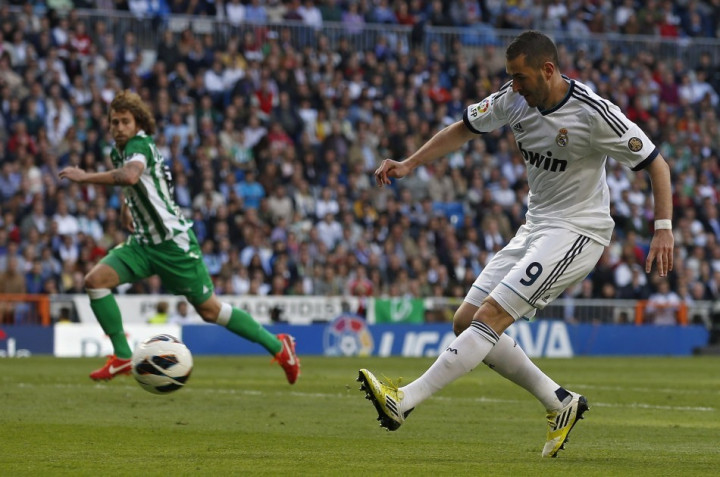 The striker's contract with Madrid ends in 2015 and the player is reportedly negotiating a new contract. This will be a major setback for Arsene Wenger, who had earmarked the striker as his breakaway option after missing out on Liverpool striker Luis Suarez.
"We can't stop the rumours. But I tell you: Karim will not go to Arsenal. It's never been a question for him and no contact has been made. He will stay at Madrid. The probable arrival of Gareth Bale at Real Madrid doesn't threaten him at all. Cristiano Ronaldo and Bale will play on the wings and Karim in the centre. Karim could very well finish his career at Real, the club of his dreams," Djaziri said.
If the situation does not change, this will be the third major striker that the Gunners have missed out on this summer, having previously pursued Gonzalo Higuain and Suarez. With pressure mounting on Wenger to spend and the transfer window drawing to a close, the Gunners have assess other targets quickly if they hope to end their eight-year trophy drought.
Meanwhile, Wenger has praised Aaron Ramsey for his performance in Arsenal 's 3-1 win over Fulham on Saturday. The midfielder was awarded the Man of the Match trophy for this performance, something the Frenchman believes is down to their trust in him and the player's interest in moving forward.
"Ramsey is a young player. A year ago, he was highly under scrutiny. People had major doubts but I think he deserves huge credit for having moved forward the way he did. We deserve some as well because we continued to develop him and believe in him," Wenger told www.arsenal.com.