Arsenal striker Lukas Podolski has revealed that he is willing to fight for a place in the starting XI despite reports linking the Gunners with a move for Real Madrid frontman Gonzalo Higuain this summer.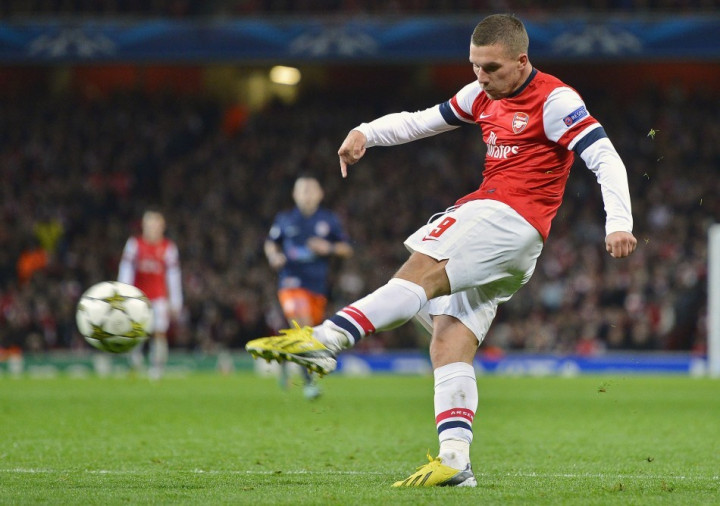 The 25-year-old's arrival is likely to limit Podolski's chances of playing through the middle where he thrived at the tail end of last season, following the suspension of Olivier Giroud. The Gunners are also keeping a keen eye on Manchester United striker Wayne Rooney and are likely to make a move should he be made available. Arsene Wenger has been handed a £70m transfer fund to spend this summer and bring the Gunners back to winning ways.
"It is always good when good players come in. I don't worry about a specific player. And it is certainly not a problem. I am strong enough and I have qualities. And when good players come in, I will play with good players. Every season players come in and players go. But I think it is good news if top players come in," Podolski said, according to the Sun.
The 28-year-old is also hopeful that the North London club will challenge for the title this season, having failed to win the league since their invincible season in 2003-04. The Gunners have been hit by multiple departures over the past couple of years with Cesc Fabregas, Samir Nasri and Robin van Persie leaving the club in quick succession. However, with no important members of the team set to leave and a plethora of signings yet to come, the Gunners can finally look to ending their eight season barren run.
"The hope is that this season Arsenal will be at the top of the league. English football, thankfully, is not like Spain where you only have two teams - Barcelona and Real Madrid - who fight at the top. In the Premier League you have five, six, even seven top, top teams. It is very difficult but I know that Arsenal are one of those top teams who will be involved. You don't know how the season will work out. A few of the other teams all have new managers so it is difficult to say. But they will be strong and equally, Arsenal will be strong," he added.