Arsenal have stepped up interest in Manchester United striker Wayne Rooney. The Mail Online believes the Gunners will smash their wage structure to sign the England striker. The 27-year-old has two years left on his Old Trafford deal and is paid £250,000 per week. It is understood the north London side will offer him £200,000 per week and a hefty signing bonus.
The former Everton forward appears increasingly likely to leave this summer, following the appointment of Toffees' boss David Moyes to replace the retiring Sir Alex Ferguson. Moyes and Rooney do not share the best of relationships since the former sued the latter for comments in an autobiography.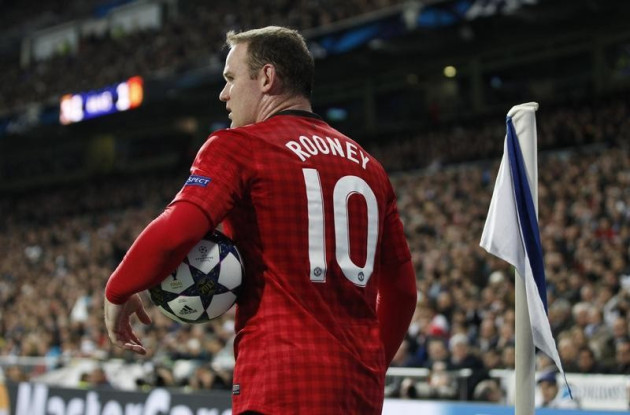 Rooney submitted a transfer request a few weeks before Ferguson announced his retirement and that was rejected. He could submit a second request, once Moyes takes charge. Should he do so, reports suggest the decision on that matter will be left to the new manager. United chief executive David Gill believes last season's top goal scorer can be persuaded to remain with the Premier League champions.
Rooney has been linked with Ligue 1 champions Paris St Germain, with ESPN reporting the French club has opened talks.
The Mail adds that Arsenal have also been linked to Fiorentina forward Stevan Jovetic and Real Madrid strikers Gonzalo Higuain and Karim Benzema. Jovetic has a £25m buyout clause but the Gunners are only offering £20m. Serie A champions Juventus have confirmed an interest in Jovetic and Higuain, according to Goal.com.
Giroud on Next Season
Meanwhile, Arsenal striker Olivier Giroud claims his second season in English top flight will be drastically better than his first. The French international 17 goals and 10 assists in 47 games this season.
"I'm happy with that statistic but I think I can improve my game and my relationship with my team-mates. I'm sure that next season will be better. I always want to improve myself so I'm very confident for next year. For the first season, it's not been so bad. For a first season in a league like the Premier League, it's never easy to play very well, like Didier Drogba or Thierry Henry," told www.arsenal.com.