Lukas Podolski says there will always be offers for his services elsewhere from Arsenal, but the striker wants to honour his contract with the Gunners at this stage.
Podolski joined the club last summer as an eventual replacement for Robin van Persie alongside fellow newcomer Olivier Giroud.
The striker has since become a success in north London, scoring 16 goals and providing 10 assists this season to help the side qualify for next season's Champions League.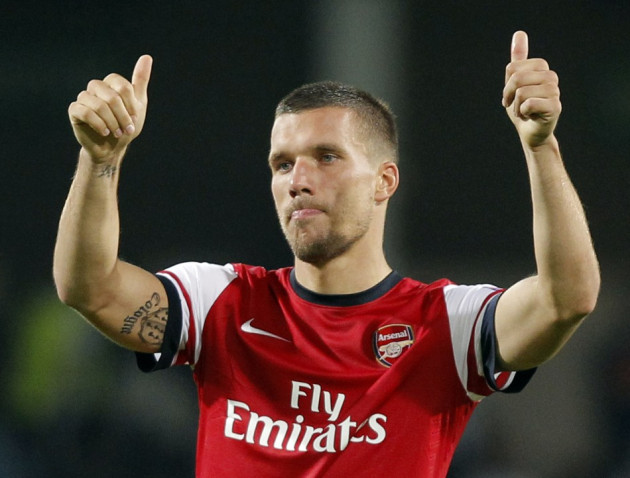 Recent reports linked the Germany international with a shock move to Juventus, and while Podolski insists he's happy at Arsenal, he's also open to change if it's the right move.
"There are always offers, I don't have any influence on that," he told Bild. "Of course I feel honoured.
"But, the fact is, I have a contract with Arsenal. There's no reason to leave the club. However, in the football-business a lot of things are conceivable."
While a move away from Arsenal would appear inconceivable just a season after joining the club, Juventus are desperate to build on their attacking line-up having failed to land a big-name striker last summer.
The side ended up taking on Nicklas Bendtner, who failed to score for them this season, and with reports claiming they are willing to offer £15 million for Podolski's services as well as wages of over £100,000 per week, the Gunners could be tempted if they have another striker target in mind.
Meanwhile, Podolski will be one of many Germans watching on with pride as the Bundesliga's two top sides face each other in the Champions League final on Saturday night.
While Bayern Munich are the obvious favourites, the 27 year old believes that the Jurgen Klopp factor could be the undoing of the German giants, who are on course for the treble this season.
"There is no favourite for the final, everything is possible in a single match," he said. "Bayern are at the top of Europe, but Klopp is a positively crazy coach who will fire up his men. They've had a very strong Bundesliga and Champions League campaign.
"Of course I'm hoping Bayern will win. I trained under Jupp Heynckes who is a great coach."