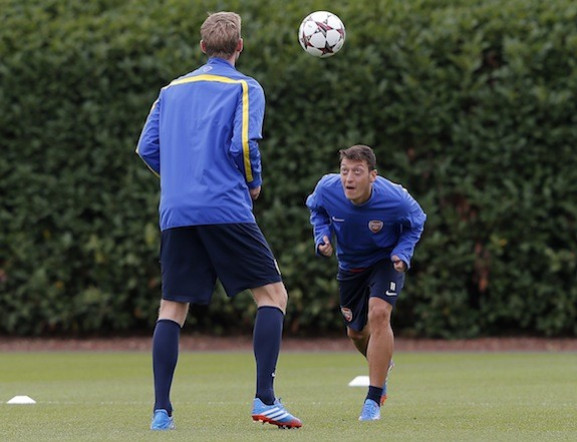 From committing to Real Madrid for the foreseeable future to lining up for Arsenal in their first Champions League group stage match, Mesut Ozil's move from Madrid to London has led to a ongoing slanging match of false reports, accusations and threats of legal action.
It seems every day there are more quotes from Madrid represenatative claiming that Ozil wasn't good enough to be a player for the club, or wasn't professional enough, with the latest accusation declaring that he doesn't have the drive compete for a place in one of the world's best sides.
Of course many of the reports surrounding his exit from Madrid are unsubstantiated, as is the case in modern football where those who can get the story out first are victorious over those who are accurate. For example, Madrid never said Ozil was unprofessional or obsessed with women, and when the Germany international supposedly said he'd play for the Gunners for free, he wasn't referring to the wage but to the transfer fee of which he doesn't personally receive a penny anyway.
But the latest comments from Florentino Perez, who was re-elected as club President in June, are indeed real, and his suggestion that Ozil didn't have the fight to be a Madrid player has been strongly refuted by Arsene Wenger.
Why is the saga continuing to drag on as Ozil becomes entrenched in north London and looks to have moved on from his life in the Spanish capital? The key is in the politics.
Perez has been in a defensive mood after a transfer window in which their record-breaking purchase of Gareth Bale wasn't met with as much fanfare and celebration as the president would have liked. The supporters lined up in droves and purchased 'Bale' shirts like they were going out of fashion, but the questions remain as to whether their decision to sell Ozil was the right one.
Logic would foretell that the sale of Ozil, nearly €50m, would have seriously helped the club to be able to easily afford this deal and this factor would have been the most important in Madrid's decision to sell the star.
But with a brand that is based around being the richest and most prestigious club in the world, where money is no object, Perez is not about to admit that the side sold one of their top players in order to fund a transaction to a club who have competed in one Champions League campaign in their history.
Ozil's revelation that he lost trust in Madrid and in Carlo Ancelotti was equally refuted by the manager, who claimed that he had never spoken to the player over any such perceived loss.
German manager Joachim Low, possibly the most independent party involved in the matter, admited that Ozil needs extra guidance as a player, and while he may not have spoken to Ancelotti, Low's comments on the 24 year old's mind-frame would suggest that he might have been more keen to stay and fight for his place had the Italian boss seeked him out and given him words of encouragement like Wenger did in the now infamous first phone call between the pair.
The politics at Madrid have extended to all of players and examples of this are frequent. Constant reports are dogging Perez that he was handed an ultimatum by a group in the squad to get rid of Jose Mourinho last season - one that he denies took place but the coincidence of sacking the manager soon after can't be discounted.
A look at Gonzalo Higuain's record at the club before he left for Napoli this summer could make one question why he was so publicly looking for an exit - the Argentine had scored countless goals and looked to be towards the top of the heirachy, and the club are painstakingly close to winning a 10th Champions League. Spanish football expert Sid Lowe summed up the reasons for his exit in his column on the striker - once again, explaining that it all came down to club politics.
Madrid want the fans and players on their side in their actions to sell Ozil and bring in Bale in the summer. Perez can continue to comment on the situation, but for the president, whether he likes it or not, it will come down to the pair's performances this season how the supporters and squad will judge his decision.